Workshops for your School or District
The New Jersey State Bar Foundation offers programming to educators who would like to schedule trainings for their school or district groups.
All NJSBF Trainings (workshops and webinars) are free
Workshops are virtual only (exceptions may apply)
Trainings scheduled at mutually agreed to days/times
Earn PD Credits
To request an accommodation or for inquiries about accessibility please contact Jessica Taube at

[email protected]

or at 732.937.7523.
If you have any questions regarding workshops contact Aracely Suto at

[email protected]
To apply, fill out and submit the application form below: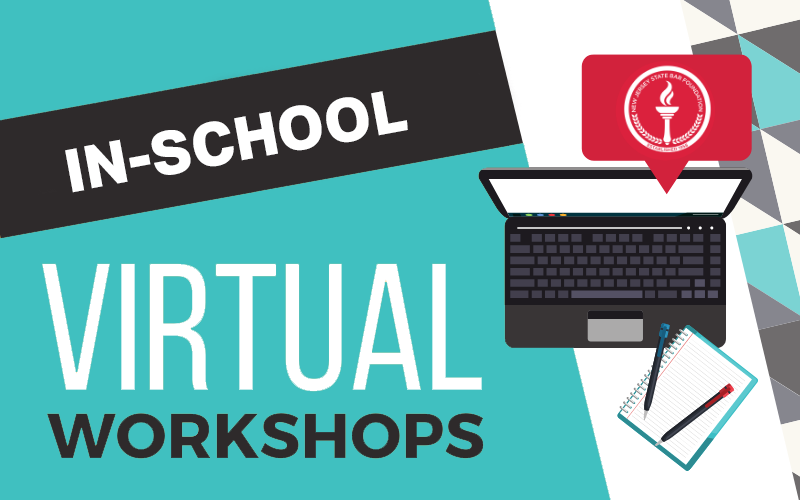 Please scroll down to view the list and descriptions of workshops and webinars available.
Webinars (Minimal interaction):
Motivation: Keeping it Up (2 hours)—Motivation can be a difficult state of mind to achieve. This webinar will cover what motivation is and what forms of motivation are effective. It will also cover the factors that need to be taken into consideration when motivating people. This webinar works to answer these questions, provides resources to use with adults and students and more. Click here for more information.
Resilience: Getting Through Stressful Times (2 hours)—This webinar introduces educators to different definitions of resilience, focusing on specific aspects of resilience and providing practical applications of resilience for educators and students. Click here for more information.
Self-Awareness: A Boost for Ourselves and Our Students (2 hours)—Self-awareness is the keystone competency for SEL. It's comprised of an inward understanding of yourself and knowing how others see you. This webinar will take a deep dive into the different components of self-awareness to help educators promote it in themselves and in their students. Click here for more information.
Interactive Workshops (Webcam and microphone required – 60 people max):
Beyond Bias: Unconscious Bias (3 hours)—This workshop will introduce participants to the concept of unconscious (or implicit) bias in themselves and in others. This training will demonstrate to participants the many ways that unconscious bias manifests itself. It will also identify strategies to address unconscious bias in ourselves and in our school population. Click here for more information.
Beyond Bias: Talking About Race (3 hours)—Issues of race and ethnicity have been coming to the forefront more recently in schools. Educators may have felt lost in how to talk about race with their students. This training explores the reasons WHY it is important to talk about race. It will introduce educators to proper terminology surrounding the issues of race and ethnicity and have educators feeling more comfortable when talking about these important topics. Educators will leave knowing that it is NOT their responsibility to solve the race issues in our country, but it is their responsibility to create an open forum for students to express their feelings, frustrations and fears. Click here for more information.
Beyond Bias: Being an Anti-Racist (3 hours)—Join us in this virtual workshop as we discuss what it means to actively be an antiracist. In this workshop we will look specifically at anti-Black racism, what it means to be antiracist, analyze the educational system in our country and work to create action-oriented personal goals. Each participant will need to choose an educational area to focus on during the registration process. The areas that we will focus on during this workshop will be: college readiness/access to AP/gifted and talented programs, educator expectations and biases, lack of representation of black educators/role models, school discipline inequities and curriculum. Each participant will also be asked to identify their racial identity when registering for the purposes of specific breakout group. Please be prepared to choose one area of focus during the workshop and your racial identity when you register. **Prerequisite: Must take our "Talking About Race" workshop beforehand.** Click here for more information.
Breaking Bias: Lessons from the Amistad (3 hours)—This workshop looks at this history through an anti-bias lens and highlights the contributions that African Americans have made to the United States as well as the lessons our country has learned from African American history. It also focuses on how African Americans have not only been victims but agents of their own change throughout history, how racial oppression has transformed over time in the U.S. and what our responsibilities are, both individually and collectively, to respond to racism. Click here for more information.
Conflict Resolution (Choice of Elementary or Middle/High School) (3 hours)—The conflict resolution training sessions focus on conflict resolution techniques such as identifying conflict, ascertaining sources of conflict, skills to solve conflict and much more. At each interactive training, all participants will be able to order relevant posters for their schools and a copy of our conflict resolution guide which contains lesson plans, student handouts and a "Setting Up a Program" section for educators in your school to help turnkey, update or refine your conflict resolution program. Click here for more information.
Holocaust Education (In-School or District Wide) – please visit Echoes & Reflections for class-room ready content, instructional strategies and  a summary of programs available to bring to your school or district. Echoes & Reflections is always happy to collaborate to customize their programs based on the needs of a particular district/institution. Contact Program Manager, Jennifer Goss, to learn more and schedule a program.
Peer Mediation is a conflict resolution process that empowers students to mediate conflict among their peers. Learn how to mediation has been proven to reduce incidents of school violence, how to implement and sustain a peer mediation program and how to train students to be peer mediators.
Restorative Justice (3 hours)—Restorative Justice is a proactive approach that considers the needs and obligations of all stakeholders in a community. It is used in schools to build community, prevent and address harm and conflict, and help students positively re-integrate into school after an absence. This training will introduce educators to the concept of restorative justice and its positive impact on school climate and provide strategies for implementing restorative practices and mindsets into a school community. Click here for more information.
Social Emotional Character Development (3 hours)—This training shows how to integrate the five competencies of social and emotional learning into the school setting; self-awareness, self-management, social awareness, relationship skills and responsible decision-making. Educators will be able to incorporate these core SEL concepts into existing character education programs through lessons, journaling and habits. This training is designed for elementary, middle and high school educators. Click here for more information.
Trauma Sensitive Schools (3 hours)—Unaddressed trauma can lead to violence, and in turn, providing support for students who have experienced trauma can prevent violence and create stronger communities. While focusing on trauma in the context of returning to school after remote learning, this workshop will define trauma, give examples of how it can manifest in the classroom and school building, and offer practical tips on how educators can incorporate a trauma-sensitive lens into their teaching style. Click here for more information.
Understanding HIB Characteristics (3 hours)—This training was designed to analyze the definition of HIB in the Anti-Bullying Bill of Rights (ABR) that NJ schools use to identify Harassment, Intimidation and Bullying incidents. The training takes a cultural look at the specific characteristics listed in the definition of HIB and helps educators understand them more clearly. This makes it easier for educators to properly identify HIB incidents. Click here for more information.