Congratulations 2023 Winners!
38 students (from 19 schools) entered this year's contest. These talented artists sketched a mock trial team in action during the county contests of NJSBF's High School Mock Trial Competitions.
The winners were honored at the New Jersey Law Center with a celebratory breakfast, Awards were presented during Mock Trial Finals by Kathleen N. Fennelly, Esq., President of the New Jersey State Bar Foundation and New Jersey Supreme Court Chief Justice Stuart Rabner.
Calling all New Jersey High School Educators for 2023-204 Contest!
Encourage your students to participate in the Foundation's 8th annual Courtroom Artist Contest, which is held in conjunction with the New Jersey State Bar Foundation's Vincent J. Apruzzese High School Mock Trial Competition.  This competition gives creative students an opportunity to stretch their artistic muscles while sketching their school's mock trial team in action.
Important Dates – 2023-2024 Contest

Check back in September, 2023.
More About our Courtroom Artist Workshop Leaders & Judges

Aggie Whelan Kenny: Ms. Kenny is known for her coverage of 9/11 responders and long term coverage of the US Supreme Court. She has been a courtroom artist for over 40 years and is an Emmy award winner for her work on the Mitchell-Stans trial (1974) for the CBS Evening News with Walter Cronkite. For more about Aggie Kenny click here.
Elizabeth Williams: Ms. Williams is an illustrator, courtroom artist and author.  Her work has appeared on the cover of major news publications including USA Today, the New York times and The Wallstreet Journal. She is co-author of The Illustrated Courtroom: 50 Years of Court Art, a history of American courtroom sketch artistry.  For more about Elizabeth Williams click here.
Questions
For more information, please contact Mary Jean Barnes, Director of Administration and Grant Programs, at [email protected]
March 2023 Award Reception at the New Jersey Law Center
Cypress Drueding accepts the 1st Place award from Chief Justice Rabner.
Congratulations to the 2023 Winners!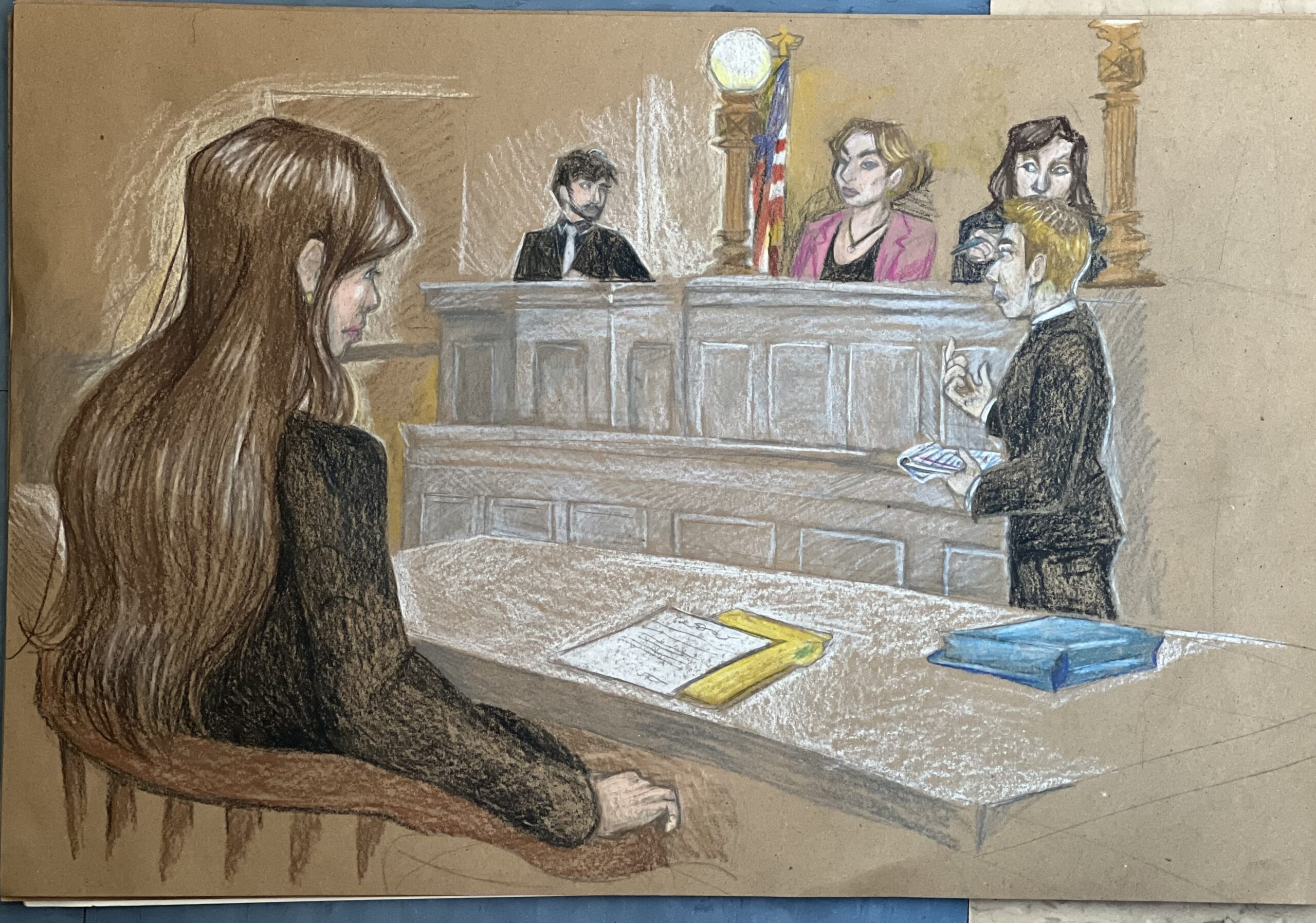 First Place Winner
by Cypress Drueding of Cumberland County Technical Education Center
Honorable Mention
by Erin Bradford of Cranford High School
Second Place Winner
by Fox Mertyris of Hunterdon County Polytech
Honorable Mention
by Sanika Godbole of John P. Stevens High School
Third Place Winner
by Maggie Kelleher of Marine Academy of Technology and Environmental Science
Honorable Mention
by Sumehra Mamun of John P. Stevens High School