Peer Mediation
Peer Mediation is a conflict resolution process that empowers students to mediate conflict among their peers. Learn how to mediation has been proven to reduce incidents of school violence, how to implement and sustain a peer mediation program and how to train students to be peer mediators.
Participants will receive our FAQs of Peer Mediation guide, classroom posters and other materials to aid in developing and sustaining a peer mediation program.
Trainings are free for New Jersey Educators.
Peer Mediation training is scheduled throughout the year. Visit our Events page for a schedule of upcoming trainings and to register. If a training is full, click HERE to be put on the waiting list.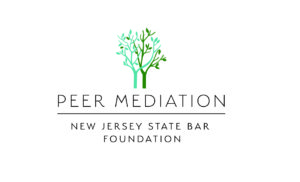 In-Person Training
New Jersey Law Center, New Brunswick, NJ
9 am to 3 pm (breakfast & lunch included)
PD Credits Earned: 5.5
Registration Required
Virtual Training
Via Zoom (webcam/microphone required)
3 hours (am and pm sessions)
PD Credits Earned: 3.0
Registration required
For questions about NJSBF trainings or to request accommodation or to inquire about accessibility for any training, please contact Jessica Taube, Director of Conflict Resolution and Anti-Bias Initiatives at jtaube@njsbf.org or call 732.937.7532.​
No Show Policy. If you are unable to attend a training after registering, please let us know. You may cancel your registration up to the day before the training by emailing Bobby Espinoza at respinoza@njsbf.org or by calling 732.937.7528.
If you register and do not attend, you will be placed on our "No Show" list. Should this occur three times, you will be removed from our email list. Cancelling allows us to fill your spot with an educator from our training waiting list.
What attendees had to say….
"The Peer Mediation training was very informative and very applicable to today's students. The visit from student peer mediators helped bring alive this must-have program. I want to come back for more training classes after this experience."
"This program was truly transformative and eye-opening. The approaches presented were attainable, rewarding and effective. The materials provided will definitely be implemented in our program!"
"Informative, interactive workshop! It was so refreshing to attend a practical professional development session. Everything taught would improve the overall school climate."