Mock Trial Competition for Grades 7 and 8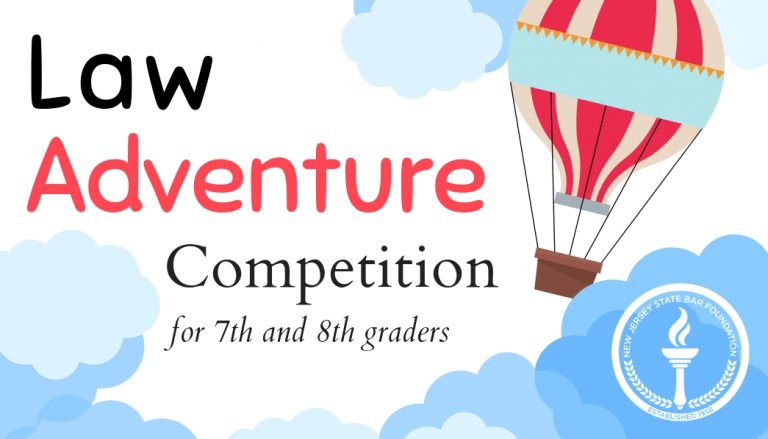 Every year, the New Jersey State Bar Foundation invites seventh- and eighth-graders and their teachers to participate in our Law Adventure Competition by submitting original mock trial cases. There is no charge to enter. The cases submitted must be suitable for use in the classroom as a tool to teach students about legal issues.
Law Adventure helps to fulfill civics education requirements, such as NJ Learning Standard 6.3.8 Civics PR.5, engagement in simulated democratic processes which includes judicial proceedings
2023-2024 Competition
Law Adventure: You Be the Jury (May 6th -9th)

Experience what it's like to serve as jurors in person with your students at the New Jersey Law Center!  Hear cases performed by winners of this year's Law Adventure competition. After hearing the cases, you and your students will deliberate and render verdicts.
When: May 6 – May 9 (morning and afternoon sessions available – see the registration link for dates and times)
Where: In-person at the New Jersey Law Center, One Constitution Square, New Brunswick, NJ
Who can attend: 7th and 8th Grade students and their teachers (regardless of whether you entered the competition or not)
Free. There is no charge to attend.
Space is limited. Register by April 19, 2024.
Register to attend here.  Spots will be filled on a first come, first served basis
Additional Resources

Law Adventure Civics Curriculum Guide: download here.  This guide was prepared by John Shanagher, retired teacher, Bloomfield Middle School; and Lauren Barton, currently principal of the Brookdale School, Bloomfield.
Mini-Court Teacher's Guide (background information, glossary of legal terms and word searches) Download here.
Additional Mock Trial & Civics Content, including quizzes: click here.
Winning cases from past Law Adventure Competitions can be viewed and downloaded below.
Questions?
Please contact Sheila Boro, Director of Mock Trial Programs at sboro@njsbf.org
Watch clips of students from Bloomfield Middle School present their winning mock trial case at a workshop for teachers of grades 3 – 8. This segment is from Classroom Close-up NJ, produced by the New Jersey Education Association and NJTV with additional funding from PSE&G. Classroom Close-up NJ features innovative programs in New Jersey's public schools.
Previous winning cases…click on image to download the pdf.