Important Notice Re: Cancellations
In view of the state of emergency regarding COVID-19, the May Law Adventure and Law Fair programs have been cancelled. Questions should be referred to Sheila Boro, director of mock trial programs, at [email protected].
The Law & Disability Conference scheduled for May 5, 2020 has also been cancelled. Check our website for a reschedule date.
All March and April conflict resolution and anti-bias trainings are cancelled. New webinars are being developed and  will be marketed though our email distribution list. To sign up to receive these emails, educators can click here.
NOTE: The NJSBF has created a COVID-19 Information Resource Page that contains information/links on topics related to the crisis. If you would like to receive email updates regarding the page, click here.
Top Stories
Emergency Grant Funding Available!
The New Jersey State Bar Foundation is committed to assisting nonprofit organizations during the Covid pandemic. The Foundation will award a total of $100,000 to groups that are on the front lines of this evolving crisis, to support them in providing relevant and timely law-related information to the public. For details about the grant application, download this PDF.
Attention Teachers of Grades 3-8!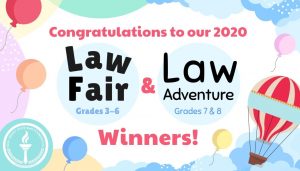 Even though school is out, court is in session with a distance learning exercise designed to educate and entertain students about mock trial.  To find out how, click here.
We also want to congratulate the students and teachers who submitted winning cases in our Law Fair and Law Adventure Competitions.
For a list of winners in the Law Fair Competition, click here.
For a list of winners in the Law Adventure Competition, click here.
For more information on Law Fair and Law Adventure, click here.
The New Jersey State Bar Foundation is committed to informing New Jersey Citizens. With news about the Coronavirus (COVID-19) crisis changing daily and often times coming at us at a dizzying speed, the NJSBF has put together in one place relevant information for the...
read more
The New Jersey State Bar Foundation's three blogs are great resources for teachers who are teaching remotely during the Covid-19 virus crisis. The posts on all three blogs—The Informed Citizen, The Legal Eagle Lowdown & The Respect Rundown—contain discussion...
read more
Attention: Attorneys
Interested in Making a Difference?
Volunteer for the Foundation's Speakers Bureau or become a mock trial coach.