NJ State Bar Foundation Invites Non-Profit Organizations to Apply for Grant Funding

The New Jersey State Bar Foundation ("NJSBF") leads the nation in providing free law-related and violence prevention education to the public. By partnering with other organizations, we continue our commitment to broadening our public education campaign so that free legal information is available to New Jersey citizens statewide. We invite non-profit organizations to work with us so we can accomplish this goal together.
Our programs are made possible through funding from the IOLTA Fund of the Bar of New Jersey, which in 1988 began disbursing money generated from interest on lawyers' trust accounts. Some of our most successful programs are those in which we've combined efforts to cosponsor a project with another nonprofit organization.
Click here to fill out the online Co-Sponsorship application. The deadline for submission is January 22, 2021. For more information on co-sponsorships, click here. 
Top Stories
NJSBF Seeks Court Night Applications
The 2021 Law Day theme is Advancing the Rule of Law, Now. NJSBF stands for the rule of law and invites county and specialty bar associations to stand with us and apply for funding for their Court Night programs.
Click here to fill out the online application. Applicants will be asked to provide a narrative plan for the program along with a detailed budget outlining the funding requirements. The deadline for submitting an application is January 25, 2021. For more information about NJSBF's Court Night Program, click here.
NJSBF Announces Winners of its Ninth Juried Art Show 
The winning art work in the Foundation's Ninth Juried Art Show can be found here. You can access a virtual art gallery from that page as well and check out all the amazing artwork submitted for this year's show. The virtual art gallery will remain up until December 31, 2020. 
Looking for a Cure for Zoom Fatigue?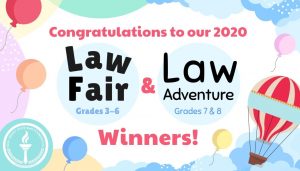 Whether you're teaching remotely or in person, our Law Fair (grades 3 – 6) and Law Adventure (grades 7 & 8) Competitions can help to educate students about the law in and out of the classroom. The free competitions are open to public and private schools and other organizations in New Jersey. For more information, click here for Law Fair and click here for Law Adventure.
Also, don't forget to check out our recently-launched Mock Trial and Civics Online Content Page for mock trial and civics lesson plans, as well as tons of other civics-related content.
Are You Ready to Rock the Mock?
Our 2020-2021 High School Mock Trial Workbook, which contains the procedures, rules of evidence, online rules and the new civil case, has been released. For more information, click here.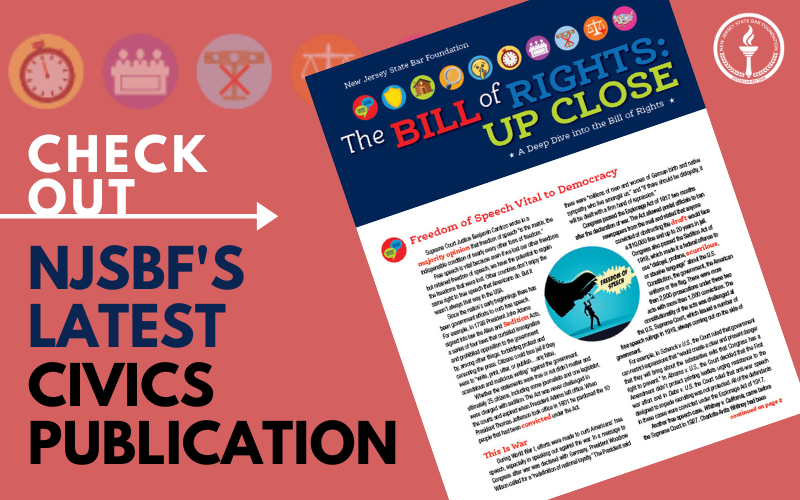 If you're looking for civics material, the New Jersey State Bar Foundation has you covered from the First Amendment to the 27th! Its latest newsletter, The Bill of Rights Up Close, take a deep dive into the Bill of Rights. This 28-page newsletter contains 13 articles...
read more
Attention: Attorneys
Interested in Making a Difference?
Volunteer for the Foundation's Speakers Bureau or become a mock trial coach.