10th Annual Juried Art Show Virtual Gallery is Open!
To view our virtual gallery, click here. Please enjoy the amazing pieces we received from our artists this year. Some of the art is for sale, so please contact Ashley Emerson, [email protected], for more information.
GET READY TO ROCK THE MOCK!
Join us in celebration of the 40th anniversary of our Vincent J. Apruzzese High School Mock Trial Competition. Our 2021-2022 High School Mock Trial Workbook, which contains the new case, rules and procedures, has been released.  So who is "Emery Rose," where did all that luxury jewelry come from, and what is a blockchain?  To find out, click here. There is no charge to enter.
NJSBF's free Law Fair Competition for grades 3 – 6 and Law Adventure Competition for grades 7 & 8 will proceed as usual with submission of original mock trial cases written by teachers and students according to rules that NJSBF provides. For Law Fair, click here and for Law Adventure, click here.
NJSBF Has A New Workshop!
Unaddressed trauma can lead to violence, and in turn, providing support for students who have experienced trauma can prevent violence and create stronger communities. While focusing on trauma in the context of returning to school after remote learning, this workshop will define trauma, give examples of how it can manifest in the classroom and school building, and offer practical tips on how educators can incorporate a trauma-sensitive lens into their teaching style. This workshop will be available in August and September, click here to sign up for it.
The History of the New Jersey Law Center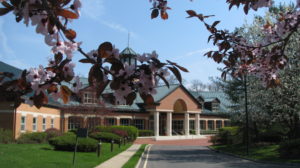 Check out the video of Vincent J. Apruzzese, Esq., a former NJSBF President, who led the drive to build the New Jersey Law Center, telling the story of how the building came about. The Foundation's high school mock trial competition is named after Mr. Apruzzese. In this oral history, titled The History of the Law Center, Mr. Apruzzese takes you through the process which culminated in The New Jersey Law Center becoming one of the premiere centers for law-related education in the nation for the public and attorneys. Click here to watch the 23-minute video.
In civics education, generally the U.S. Constitution gets all the attention, but every state has its own constitution too and some of them pre-date the federal constitution. An often-quoted dissenting opinion, written in 1932 by U.S. Supreme Court Justice Louis...
read more
Attention: Attorneys
Interested in Making a Difference?
Volunteer for the Foundation's Speakers Bureau or become a mock trial coach.