NJ State Bar Foundation Advocates Confronting Racism with Education

An integral part of the New Jersey State Bar Foundation's mission is to foster increased awareness, appreciation and knowledge of the legal system. We cannot do that without acknowledging that systemic racism is a deep-seated flaw of our system, and a barrier to its ultimate goal of equal justice.
The killing of George Floyd and other bias-motivated violence in this country has, once again, brought this barrier into sharp focus. The Foundation and its leadership unequivocally condemn these horrific acts. We see the pain and trauma that so many among us are feeling, and the fervent desire to enact change. Read the entire statement.
NOTE: Due to the pandemic, the New Jersey State Bar Foundation's 2020 Medal of Honor Awards Dinner, usually held in September, has been cancelled. Check back in January for further information on this great event. Click here to read more about the 2020 Honorees.
Zoom Workshop for HS Mock Trial Coaches, Art Teachers & Educators
Join us on Wednesday October 28, 2020 at 3:00 p.m. to learn how to prepare your students for the New Jersey State Bar Foundation's 2020–2021 Courtroom Artist Contest. This workshop will include an overview of the high school art students' contest held in conjunction with the Vincent J. Apruzzese High School Mock Trial Competition. Nationally-heralded courtroom artist and authors will discuss the history of courtroom art and its use by the media.Teachers attending the entire workshop will receive one professional development hour. The Workshop is free but reservations are required. To register, click here.
Looking for a Cure for Zoom Fatigue?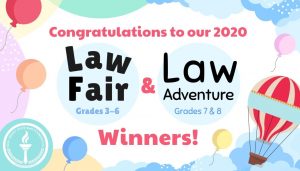 Whether you're teaching remotely or in person, our Law Fair (grades 3 – 6) and Law Adventure (grades 7 & 8) Competitions can help to educate students about the law in and out of the classroom. The free competitions are open to public and private schools and other organizations in New Jersey. For more information, click here for Law Fair and click here for Law Adventure.
Also, don't forget to check out our recently-launched Mock Trial and Civics Online Content Page for mock trial and civics lesson plans, as well as tons of other civics-related content.
Can You Keep a Secret About This Year's High School Mock Trial Case?
In this year's original civil case, a car accident goes wrong when protestors tangle with police on the way home from a demonstration. Plaintiffs are suing the City of Metropolitan for false arrest.
Teacher-coaches, if you and your high school team plan to rock the mock this season, and you haven't already entered, click here to register. Registration closes October 23. There is no charge to enter.
The fall 2020 Legal Eagle is now available. It is a Special 2020 Election Edition and here are the headlines you'll find in the special issue: Mailing in the Votes High-Tech Not Always the Best When it Comes to Voting Sowing Seeds of Doubt to Suppress the Youth Vote...
read more
The New Jersey State Bar Foundation has awarded $42,000 in scholarships to 13 deserving students from New Jersey's three law schools. For 30 years, the Bar Foundation has been awarding scholarships to worthy students entering their second or third year of law school....
read more
Attention: Attorneys
Interested in Making a Difference?
Volunteer for the Foundation's Speakers Bureau or become a mock trial coach.