The New Jersey State Bar Foundation invites lawyers, judges, paralegals, law professors, students and other law-related professionals to submit your artwork (limit 3 pieces) to the Tenth Annual Juried Art Show. We are continuing to work within the pandemic and will have a virtual gallery and reception again this year!
To enter, please click here. To view the Art Show Prospectus, please click here.
Deadline for Submissions: Friday, October 22, 2021.
Announcement of Accepted Entries: Tuesday, November 12, 2021
Virtual Art Show Goes Live: Thursday, December 2, 2021
GET READY TO ROCK THE MOCK!
Join us in celebration of the 40th anniversary of our Vincent J. Apruzzese High School Mock Trial Competition. For more information about the competition, click here. County competitions will take place in January, with regional, semi-final and final contests in February and March. If in person competition is not possible at that time, we will pivot to virtual. There is no charge to enter.
NJSBF's free Law Fair Competition for grades 3 – 6 and Law Adventure Competition for grades 7 & 8 will proceed as usual with submission of original mock trial cases written by teachers and students according to rules that NJSBF provides. For Law Fair, click here and for Law Adventure, click here.
NJSBF Has A New Workshop!
Unaddressed trauma can lead to violence, and in turn, providing support for students who have experienced trauma can prevent violence and create stronger communities. While focusing on trauma in the context of returning to school after remote learning, this workshop will define trauma, give examples of how it can manifest in the classroom and school building, and offer practical tips on how educators can incorporate a trauma-sensitive lens into their teaching style. This workshop will be available in August and September, click here to sign up for it.
The History of the New Jersey Law Center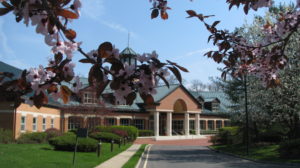 Check out the video of Vincent J. Apruzzese, Esq., a former NJSBF President, who led the drive to build the New Jersey Law Center, telling the story of how the building came about. The Foundation's high school mock trial competition is named after Mr. Apruzzese. In this oral history, titled The History of the Law Center, Mr. Apruzzese takes you through the process which culminated in The New Jersey Law Center becoming one of the premiere centers for law-related education in the nation for the public and attorneys. Click here to watch the 23-minute video.
Thank you to everyone who made the 2021 Medal of Honor a huge success! We are excited to report that the money raised will allow us to continue to fulfill our important mission of educating and inspiring the public through FREE services and innovative programs about...
read more
Attention: Attorneys
Interested in Making a Difference?
Volunteer for the Foundation's Speakers Bureau or become a mock trial coach.