Save The Date for the 2021 Medal of Honor Awards Dinner
The New Jersey State Bar Foundation would love to see you at its annual gala celebration honoring our Medal of Honor recipients. It will be held this year at the Park Chateau in East Brunswick. Save the date for September 28, 2021, and stay tuned for more information.
In the meantime, take a look at the photo gallery from the 2019 event.
The History of the New Jersey Law Center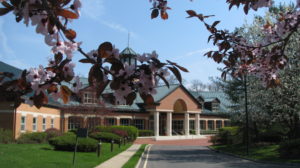 Check out the video of Vincent J. Apruzzese, Esq., a former NJSBF President, who led the drive to build the New Jersey Law Center, telling the story of how the building came about. The Foundation's high school mock trial competition is named after Mr. Apruzzese. In this oral history, titled The History of the Law Center, Mr. Apruzzese takes you through the process which culminated in The New Jersey Law Center becoming one of the premiere centers for law-related education in the nation for the public and attorneys. Click here to watch the 23-minute video.
Don't Miss These Virtual Events from Monmouth Vicinage, Cosponsored by the NJSBF
In honor of Law Day, Monmouth Vicinage is hosting a series of virtual educational events focused on this year's national theme—Advancing the Rule of Law – Now.
May 5 at 4 p.m. —"Trailblazing with Technology: Maintaining Transparency and Citizen Involvement in Jury Trials During a Pandemic"  For more information, click here.
To register for the virtual event, click here.
May 13 at 9:30 a.m. —"Virtual Juries: Inspiring Citizens' Participation in Jury Service in a Pandemic" For more information, click here.
To register for the virtual event, click here.
May 24 at 12:30 p.m. — "Qualified Immunity and the Application of Pierson v. Ray" A panel will discuss the Law Day theme and key principles of the rule of law like equal application and enforcement of laws. Presenters will be law professors who will also discuss the doctrine of qualified immunity and its constitutional origins. To register for this program, click here.
The spring edition of Respect is now available. Respect's spring issue contains articles on the cross-racial ID, bias in social studies and the recent U.S. Supreme Court decision that decided the question of who owns Oklahoma. A PDF of The spring issue can be...
read more
Attention: Attorneys
Interested in Making a Difference?
Volunteer for the Foundation's Speakers Bureau or become a mock trial coach.