After more than a year of virtual events, and the cancellation of last year's awards dinner due to circumstances beyond everyone's control, the NJSBF is delighted to host this year's IN-PERSON Medal of Honor Awards Dinner on Tuesday, September 28, 2021 at the Park Chateau in East Brunswick.
Visit our event page
here
to buy tickets, donate, take out a sponsorship to support the NJSBF, take out an ad in the program journal to support the Foundation, honor the award recipients or promote your firm/company.
NJSBF Has A New Workshop!
Unaddressed trauma can lead to violence, and in turn, providing support for students who have experienced trauma can prevent violence and create stronger communities. While focusing on trauma in the context of returning to school after remote learning, this workshop will define trauma, give examples of how it can manifest in the classroom and school building, and offer practical tips on how educators can incorporate a trauma-sensitive lens into their teaching style. This workshop will be available in August and September, click here to sign up for it.
The History of the New Jersey Law Center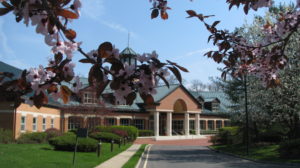 Check out the video of Vincent J. Apruzzese, Esq., a former NJSBF President, who led the drive to build the New Jersey Law Center, telling the story of how the building came about. The Foundation's high school mock trial competition is named after Mr. Apruzzese. In this oral history, titled The History of the Law Center, Mr. Apruzzese takes you through the process which culminated in The New Jersey Law Center becoming one of the premiere centers for law-related education in the nation for the public and attorneys. Click here to watch the 23-minute video.
New Jersey State Bar Foundation (NJSBF) President Kathleen Fennelly knows firsthand the quality of its programs and workshops, and she wants more people to know about them, too. She gained insight not only as a longtime member of the NJSBF Executive Committee, but as...
read more
Inadequate representation in any legal matter can have devastating consequences. Those consequences are elevated in immigration matters where having an experienced immigration attorney can mean the difference in winning or losing a case. There are laws against the...
read more
Attention: Attorneys
Interested in Making a Difference?
Volunteer for the Foundation's Speakers Bureau or become a mock trial coach.