2022 Medal of Honor Awards Dinner
The New Jersey State Bar Foundation (NJSBF) will host its annual Medal of Honor Awards Dinner on September 20, 2022 at the Park Chateau in East Brunswick. The Foundation is pleased to announce that we will be honoring two recipients with its most prestigious award—Hon. Jaynee LaVecchia (Ret.) and Raymond M. Brown, Esq. Click here for more information and to register.
The History of the New Jersey Law Center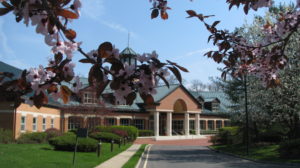 Check out the video of Vincent J. Apruzzese, Esq., a former NJSBF President, who led the drive to build the New Jersey Law Center, telling the story of how the building came about. The Foundation's high school mock trial competition is named after Mr. Apruzzese. In this oral history, titled The History of the Law Center, Mr. Apruzzese takes you through the process which culminated in The New Jersey Law Center becoming one of the premiere centers for law-related education in the nation for the public and attorneys. Click here to watch the 23-minute video.
The New Jersey State Bar Foundation presented scholarships to help 13 students pursue their education as they embark on a career in the law. Among the recipients for the 2022–23 academic year are children of first-generation immigrants and those passionate about one...
read more
Attention: Attorneys
Interested in Making a Difference?
Volunteer for the Foundation's Speakers Bureau or become a mock trial coach.