NJ State Bar Foundation Is Soliciting Candidates for Its Board of Trustees
The NJSBF's Nominating Committee invites New Jersey State Bar Association members and non-lawyers to apply for positions on its Board of Trustees. Interested candidates should complete a Candidate Questionnaire. Questions about the questionnaire or the application process may be directed to Mary Jean Barnes, Esq., Director of Administration and Grants programs at mjbarnes@njsbf.org.
The deadline for consideration is March 12, 2021. For more information, click here.  To download the Questionnaire, click here. 
Top Stories
NJSBF Seeks Nominations For Its Highest Award
The Foundation is soliciting nominations for its 2021 Medal of Honor Award, which is given annually to lawyers and law-related professionals, as well as lay people who have made significant contributions to the advancement or improvement of the justice system or the betterment of the legal profession in New Jersey. For information on the criteria of the award and the nomination procedure, click here.
To submit a nomination for consideration, click here. The deadline for submissions has been extended to March 19, 2021.
Looking for a Cure for Zoom Fatigue?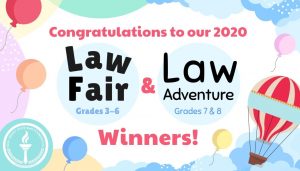 Whether you're teaching remotely or in person, our Law Fair (grades 3 – 6) and Law Adventure (grades 7 & 8) Competitions can help to educate students about the law in and out of the classroom. The free competitions are open to public and private schools and other organizations in New Jersey. For more information, click here for Law Fair and click here for Law Adventure.
Also, don't forget to check out our recently-launched Mock Trial and Civics Online Content Page for mock trial and civics lesson plans, as well as tons of other civics-related content.
Are You Ready to Rock the Mock?
Our 2020-2021 High School Mock Trial Workbook, which contains the procedures, rules of evidence, online rules and the new civil case, has been released. For more information, click here. 
The winter edition of Respect is now available. Respect's winter issue contains articles on the status of DACA, the recent U.S. Supreme Court ruling regarding LGBTQ rights and reverse redlining. A PDF of The winter issue can be downloaded or individual articles can be...
read more
Attention: Attorneys
Interested in Making a Difference?
Volunteer for the Foundation's Speakers Bureau or become a mock trial coach.