The Role of the School Climate Team
Learn about the important role a school climate team plays in creating and maintaining a positive school climate, explore ways to foster such a climate, and learn ways to develop a school-wide approach to proactively combat bullying.
This training directly address the 2011 Anti-Bullying Bill of Rights (ABR) law which requires schools to establish a school safety/climate team and appoint an anti-bullying specialist.  (Note: The Role of the School Climate Team training was formally known as "Teasing and Bullying" training).
Participants will receive our Bullying Prevention Guide: Six Essential Lessons guide.
Trainings are free for New Jersey Educators.
The Role of the School Climate Team training is scheduled throughout the year. Visit our Events page for a schedule of upcoming trainings and to register. If a training is full, click HERE to be put on the waiting list.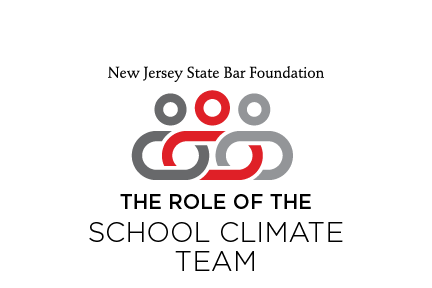 In-Person Training
New Jersey Law Center, New Brunswick, NJ
9 am to 3 pm (breakfast & lunch included)
PD Credits Earned: 5.5
Registration required
Virtual Training
Via Zoom (webcam/microphone required)
3 hours (am and pm sessions)
PD Credits Earned: 3.0
Registration Required
In-District Training Programs offered by NJPSA
The New Jersey Principals and Supervisors Association (NJSPA) and the New Jersey State Bar Foundation share a mutual commitment to improving climate and culture in our schools. Through their professional learning division, the Foundation for Educational Administration (FEA), they are pleased to offer an extended in-district training program, "Understanding the Real Role of the School Climate Team," which complements the Bar Foundation's efforts in this critical area.
This program examines the role of the School Climate Team in developing, fostering, and maintaining a positive school climate. FEA also offers sessions on creating a positive adult climate. The team at FEA will custom design in-district school climate training programs for staff and the community, as well as provide coaching to support your school's efforts to build safe and productive school environments. The program is also available as an on-line course
Please call Christy Stoehr at the NJPSA at 609.860.1200 for more information.
For questions, to request accommodation or to inquire about accessibility for this training, please contact Jessica Taube, Director of Conflict Resolution and Anti-Bias Initiatives at jtaube@njsbf.org or call 732.937.7532.
No Show Policy. If you are unable to attend a training after registering, please let us know. You may cancel your registration up to the day before training by emailing Bobby Espinoza at respinoza@njsbf.org or by calling 732.937.7528.
If you register and do not attend, you will be placed on our "No Show" list. Should this occur three times, you will be removed from our email list. Cancelling allows us to fill your spot with an educators from our training waiting list.
Bullying Prevention Guide: Six Essential Lessons
A resource for educators who have attended The Role of the Climate Team training at the Bar Foundation.
What attendees had to say….
"This was a comprehensive seminar on building a positive school climate. We were able to collaborate with other professionals from across New Jersey. I cannot wait to implement the strategies and ideas I gained from today. [The trainers] are knowlegable and such fantasic presenters. So engaging."
"This workshop inspired me to be passionate about the importance of school climate and the consistent implementation of positive climate programs."
"This is my third time attending this New Jersey Bar workshop. Each time I have been able to take away new and informative information that enhances my knowledge as the Anti-Bullying Specialist."