Law and Disability Conference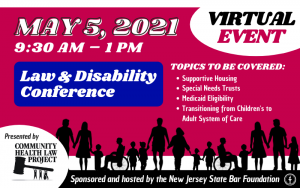 The Law and Disability Conference is held each year at the New Jersey Law Center and is cosponsored with the Community Health Law Project. This year, we will be pivoting to an online format due to the ongoing COVID-19 pandemic.
The topics for the 2021 Law and Disability Conference will include: supportive housing, special needs trusts, Medicaid eligibility and transition from children's to adult system of care. The 2021 Conference will be held Wednesday, May 5, 2021 from 9:30 a.m. to 1 p.m.
To register for this virtual event, click here. See the program agenda for the conference below.
Zoom links to all of the sessions will be sent one week prior to the event.
Program Agenda for Law & Disability Conference
May 5, 2021
9:30 to 11:30 a.m. — INTRODUCTION
Harold B. Garwin, Esq., President/Executive Director, Community Health Law Project
OPENING SESSION — The Supportive Housing Landscape
Supportive Housing is the cornerstone of a stable healthy life for many people with special needs. Whether you are a veteran, struggle with mental health or addiction recovery, are living with an intellectual or developmental disability or are a family dealing with trauma and challenges, a home with the right mix of services is key to independence. Hear from a panel of experts in the field on the state of supportive housing in NJ. Learn what opportunities exist today, new innovative options on the horizon and the trends known but not yet planned that would increase the opportunities for creating homes that help people thrive.
MODERATOR
Diane Riley, Executive Director, Supportive Housing Association of New Jersey
PANEL
Kevin Martone, LSW, Executive Director, The Technical Assistance Collaborative, Boston, MA
Janel Winter, Director, Division of Housing & Community Resources, NJ Department of Community Affairs
Michael Cassidy, P.E., P.P., Director of Planning and Real Estate, NJ Community Development Corporation
Kenneth M. Morris, Jr., MHA, MA, Vice President of External Affairs, St. Joseph's Health
Jonathan Sternesky, Manager, Policy and Legislative Affairs, NJ Housing and Mortgage Finance Agency
11:30 to 11:45 a.m. — BREAK
11:45 a.m. to 1p.m. — WORKSHOP SESSIONS
NOTE: These workshops will run concurrently in three different rooms.
Workshop 1 — Special Needs Trusts and Able Accounts 

Proper financial planning for an individual with special needs ensures lifelong care and continued eligibility for government benefits. Special Needs Trusts and ABLE accounts are two such important financial planning mechanisms which will be discussed at this workshop.
MODERATOR
Erika Kerber, Esq., Associate Executive Director, Community Health Law Project
PANEL
Dianna Maurone, Administrator, NJ Department of Human Services, Division of Disability Services (DDS)
Gary Mazart, Esq., Schenck, Price, Smith & King, LLP
Workshop 2 — MEDICAID – Eligibility and Other Issues

This workshop will discuss the criteria to become eligible for various Medicaid programs, the notice requirements before a person can be terminated from Medicaid, and the appeal process if a denial or termination occurs. Medicaid eligibility for DDD services will also be discussed. Relevant case examples will be included.
MODERATOR
Amayra Lugo, Supervising Advocate, Community Health Law Project
PANEL
Gwen Orlowski, Esq., Executive Director, Disability Rights New Jersey
Beverly Roberts, Director, Mainstreaming Medical Care Program, The Arc of New Jersey
Joshua M. Spielberg, Esq., Chief Counsel, Health Care Access Project, Legal Services of New Jersey
Workshop 3 — Transition Process and Planning for Individuals with Intellectual and Developmental Disabilities Transitioning from the Children's System of Care to the Adult System of Care 

This workshop will provide an overview of the protocols and planning that should be done for an individual with intellectual/development disabilities receiving services from the NJ Department of Children and Families (DCF) and transitioning to obtain services from the NJ Division of Development Disabilities (DDD).
MODERATOR
Daniel Farrell, Supervising Advocate, Community Health Law Project
PANEL
Patricia Bernabe, Constituent Relations and DD/ID Support, Children's System of Care, NJ Department of Children and Families
Lisa Ford, Director, The Arc of NJ Family Institute
Nkechi Okoli, MSW, LSW, Senior Coordinator, Transition to 21 & Employment, NJ Division of Developmental Disabilities
Clarence Whittaker, Assistant Director, Children's System of Care, NJ Department of Children and Families