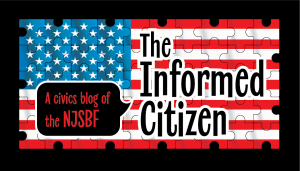 James Madison, the Father of our Constitution, once said, "Knowledge will forever govern ignorance; and a people who mean to be their own governors must arm themselves with the power which knowledge gives."
The Informed Citizen, a civics blog of the NJSBF, will tackle civics-related topics with the goal of arming all citizens with the knowledge of how the Founding Fathers created the nation and what every citizen's rights are under the U.S. Constitution.
Posts will be added to the blog every few weeks, presenting another civics-related issue. To suggest a civics-related topic for the blog, contact Jodi L. Miller at [email protected] 
For more on civics, check out the Civics Publications toggle our Publications Page, download a copy of the Special Civics Edition of The Legal Eagle or order one of our civics-related publications, including the Bill of Rights Bulletin using our Publication Order Form.
As you can imagine, running the country is a tough job, which is why presidents rely on members of their cabinet to advise them on difficult issues. The U.S. Constitution never mentions the term "cabinet," but Article II, Section 2 lays out the role of the president's...