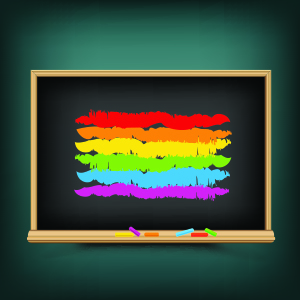 by Maria Wood
NOTE: To provide a historical perspective, this article uses outdated terms that may be offensive.
In 2019, New Jersey became the second state in the nation to enact a law mandating that middle and high schools include curriculum highlighting the social and political achievements of LGBTQ+ people and people with disabilities. New Jersey followed on the heels of California, which passed a similar law in 2011. Four other states—Colorado, Oregon, Illinois, and Nevada—also require LGBTQ+ inclusive curriculum.
This new inclusive curriculum law should not be confused with New Jersey's revised sex education standards that were implemented during the 2022-2023 school year. (For more on that see "Some Are Critical of New Jersey's Revised Sex Education Standards" in this issue).
Unlike California's inclusive curriculum law, which required teaching about the contributions of gay people only in social studies curricula, New Jersey's law encompasses all relevant subjects. The law requires districts to: "include instruction on the political, economic and social contributions of persons with disabilities and lesbian, gay, bisexual and transgendered people, in an appropriate place in the curriculum of middle school and high school students as part of the district's implementation of the New Jersey Student Learning Standards."
Garden State Equality, the largest LGBTQ+ advocacy group in New Jersey, worked with the state in crafting the LGBTQ+ inclusive curriculum, along with Make it Better for Youth, a nonprofit organization that provides educational training and resources "to make it better for LGBTQ+ youth."
While they don't have LGBTQ+ curriculum laws, four states—Utah, Arizona, South Carolina and North Carolina—repealed anti-gay curriculum laws in recent years. For example, Alabama's state legislature updated its sex education law in 2021, removing what it termed "stigmatizing language about LGBTQ+ people." That leaves Mississippi, Oklahoma, Louisiana and Texas as the only states in the nation with what have been termed "no promo homo" laws on the books. These laws primarily apply to sex education classes and prohibit or limit the discussion of sexual orientation in public schools.
Louisiana's law, for example, specifically states, "no sex education course offered in the public schools shall utilize any sexually explicit materials depicting male or female homosexuality." In general, the laws in these four states declare that public education programs must state that "homosexual conduct is not an acceptable lifestyle and is a criminal offense." These laws, however, are out of date, as the U.S. Supreme Court decriminalized such conduct in 2003 with its ruling in Lawrence v. Texas.
While these four states already had anti-LGBTQ+ laws on the books, Florida recently passed one—the Parental Rights in Education Act, which critics call the "Don't Say Gay" law. Originally the law prohibited classroom instruction on sexual orientation or gender identity for students in kindergarten through third grade. In April 2023, the Florida Board of Education, at the request of Governor Ron DeSantis, approved the same ban for all grade levels. The proposal faces a month-long procedural notice period where Florida citizens can comment before it takes effect.
Positive effects of inclusivity
In states with anti-LGBTQ+ laws, nearly 76% of gay students report being the subject of anti-gay remarks compared to 66% in other states, according to a recent report published by GLSEN, an LGBTQ+ advocacy group that supports more than 4,000 Gay & Straight Alliance organizations nationwide. In addition, the report found that LGBTQ+ students in states with anti-gay laws were more likely to face harassment and assault at school and had less access to resources.
On the other hand, GLSEN's research revealed the benefits of being exposed to an LGBTQ+ inclusive curriculum.  "LGBTQ+ inclusive curriculum can create more affirming and welcoming schools for all students and provide valuable benefits to LGBTQ+ students in particular," according to GLSEN.
Glen Rock attorney Debra E. Guston, past chair of the New Jersey State Bar Association's LGBTQ+ Rights Section, contends that anti-LGBTQ+ laws may violate the free speech of teachers, pointing to an example of teaching the works of James Baldwin, who was gay.
"To restrict teachers from addressing that facet of his life restricts them from doing their job and that's to teach," Guston says. "I'm hoping these laws end up going away because courts say they're restrictions on free speech."
A reaction to the AIDS epidemic
According to Lambda Legal Defense and Education Fund, a national organization dedicated to achieving civil rights for the LGBTQ+ community, many of these anti-gay curriculum laws arose during the AIDS epidemic in the 1980s and early 1990s. According to GLSEN, some of these laws "actively stipulate a restriction on positive representations [of the LGBTQ+ community], meaning that one could teach about homosexuality but only in a negative manner."
Christian Fuscarino, executive director of Garden State Equality, points out that marginalized people are often erased from history books and contributions from the LGBTQ+ community is no exception.
"Today, as states enact laws bringing LGBTQ+ historical figures into our lessons, we are seeing the modern-day pushback against the erasure that has existed for centuries," Fuscarino explains.
More than just highlighting the contributions of gay people in politics, the arts, and science, New Jersey's LGBTQ+ curriculum shows all students—gay and straight—the importance of respecting people who may be different than they are, Fuscarino says.
"For LGBTQ+ kids to see themselves reflected in the lessons they're learning in school, not only are we sending a message to them that they matter, but we are also sending a message to non-LGBTQ+ students that LGBTQ+ people do exist and are contributing members of society," Fuscarino says.
Portraying gay people in a positive light is more than merely an academic exercise. Such lessons could reduce the bullying LGBTQ+ students sometimes face in schools.
"This is not just about a new lesson to be taught in school," Fuscarino says, "this is about helping to reduce suicide for LGBTQ+ youth, who are living in unsupported environments at home or being bullied at school and rarely see people like them in their daily lives."
Guston says New Jersey's LGBTQ+ curriculum law is in keeping with the state's broad civil rights protections. More than that, the law sends a message to students that all their peers are entitled to respect. As that message permeates through to the younger generation, Guston believes that discrimination against gay people will diminish.
"It's one thing to have laws to tell adults what to do, but it's another thing to help young people hopefully learn so these laws become obsolete," Guston says.
Pushback on curriculum
Not everyone was on board with New Jersey's new curriculum. At a town meeting in the summer before the curriculum was slated for implementation, then Barnegat Mayor Alfonso Cirulli talked at length about how the law would "strip the rights of parents on how to morally raise their children" and took issue with the fact that parents would not be able to opt their children out of these lessons.
"State or federal government has no right to interfere with the religious upbringing or sexual indoctrination of alternative lifestyles concerning our children," Mayor Cirulli said. "Politicians have no right to promote the LGBTQ agenda with laws that are intended to destroy religious freedom."
In addition, a Facebook group called Team Protect Your Children-NJ expressed concern that the curriculum would teach "lifestyles that conflict with certain religious values." Proponents, however, say that is a misrepresentation of the curriculum. Although advocates say teaching young people accurate sexual education is vital, students will learn so much more.
In that same Barnegat town meeting, Briget Nunn, a resident and licensed clinical mental health counselor, pushed back against Mayor Cirulli's comments, saying, "You can have religious convictions and you can also have empathy and compassion. When we teach our children to be inclusive and to understand the difference, they become better human beings."
New Jersey's LGBTQ+ curriculum weaves the accomplishments of gay people across several subjects. For instance, in English, students will learn famed writer Langston Hughes was gay and how that influenced his writing. In addition, computer science students will learn that the father of the modern computer, Alan Turing, identified as a gay man.
It's up to each district in New Jersey to implement the curriculum, but Fuscarino notes that all lessons are online for parents to review.
The lessons are targeted for certain grades. For example, "Creating Space for Change," is meant for grade 12 and teaches students how to "evaluate the extent to which women, minorities, individuals with gender preferences, and individuals with disabilities have met their goals of equality in the workplace, politics, and society." In "Teaching Inclusive Grammar: Pronouns," students in grades 6-8 learn the role pronouns play in writing.
New Jersey's LGBTQ+ curriculum was slated to be used beginning in the 2020-21 school year, however, Fuscarino admits the pandemic and remote learning has presented hurdles to implementation.
"While it was a challenge, we know a lot of educators in New Jersey worked hard to incorporate LGBTQ+ identities in lessons that are already being taught," Fuscarino says. "That's the ultimate goal."
Kate Okeson, co-founder and program director of Make It Better for Youth, says she is working with districts on incorporating the new LGBTQ+ inclusive curriculum.
"I, or my team, work with districts on the framework and educational approaches," Okeson explains. "The content area teachers then work at what that looks like in a science, history, or English class."
Okeson says that plenty of districts are incorporating curriculum to heighten LGBTQ+ awareness.
"It does take time to put in place and they are allocating money in the budget for writing the curriculum," she says.
A spokesperson for the New Jersey State Board of Education couldn't provide an accurate number for how many school districts have implemented the LGBTQ+ inclusive curriculum to date. But did say, "the inclusion of such material is not optional…any districts that do not follow these requirements are subject to applicable state action."
Discussion Questions
Do you think there are benefits to learning about the contributions of diverse people throughout history? Explain your answer.
Some anti-gay laws specify that members of the LGBTQ+ community cannot be portrayed in a positive light. Imagine if a law stipulated that a community to which you belong—whether religious, ethnic or racial—could not be portrayed positively. How would that make you feel and how might you respond?
Glossary Words
homo—an offensive term for a gay person.
homosexual—considered an outdated and offensive term to describe someone who is romantically attracted to the same sex. Better terms are gay and lesbian.
homosexuality — romantically attracted to those of the same sex. Again, the term is considered outdated, but is often used in legislation.
implicit—implied but not plainly expressed or stated.
marginalized—treated as insignificant.
repeal(ed)—revoked. A law that is repealed has been withdrawn or cancelled and is no longer a law.
This article originally appeared in the spring 2023 issue of Respect, NJSBF's diversity and inclusion newsletter.