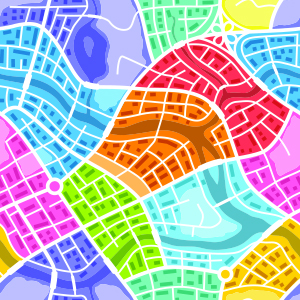 by Michael Barbella
There was a time in our nation's history when it was hard for people of color, particularly African Americans, to buy homes. Mortgage lenders subjected minorities to the discriminatory, unethical and illegal practice of redlining, effectively barring them from home ownership by denying them credit.
The term redlining refers to the red lines that mortgage lenders would draw on a map, indicating the neighborhoods in which they would not grant loans based exclusively on the demographics of the area. In other words, they would not grant mortgages in predominantly Black neighborhoods. While redlining still exists in more subtle forms today, the Fair Housing Act of 1968 diminished its more harmful impacts. The Act prohibits discrimination in the sale, rental and financing of housing based on race, religion, national origin or sex.
Redlining in reverse
Today, minorities are experiencing redlining in reverse. The practice of reverse redlining occurs when minorities are targeted and sold products and services at higher prices. It is also referred to as predatory lending. One area where reverse redlining is playing out is in the for-profit college industry.
Colleges are classified as either nonprofit or for-profit. A non-profit college can be either private (Harvard University) or public (Rutgers University) and is typically managed by a board of trustees. A for-profit college (University of Phoenix) is run like a business and is beholden to its owners and shareholders who want to see a profit.
While some for-profit institutions and trade schools provide a good alternative for students who can't afford the tuition at a nonprofit college, a number of for-profit colleges have become embroiled in lawsuits with claims of predatory lending that targets minorities.
Take the case of Kareem Britt, an African American man living in Florida, who is currently part of a class action lawsuit against Florida Career College, a for-profit educational institution. The suit was filed in April 2020 by the Project on Predatory Student Lending at the Legal Services Center of Harvard Law School.
According to court documents, Britt was barely making ends meet working two jobs when he came across a Facebook ad for Florida Career College (FCC), which read: "Are you tired of working minimum-wage jobs? Eating ramen noodles?" the ad asked. "Are you ready to step up to steak? HVAC degrees make $16 to $23/hr."
Britt contacted FCC and spoke to a recruiter, arranging an on-campus interview and tour where he was shown an HVAC (heating, ventilation, air conditioning) classroom and its related equipment. He also inquired about job placement and was told the school would help him find a job. Britt registered with the college, financing the $20,400 HVAC degree program partly through a $6,000 Pell Grant and a $3,000 "scholarship loan" from the college. A financial aid advisor told Britt he would have to pay $75 per month for the loan while attending classes.
Soon after enrolling at FCC in 2018, Britt suspected the college had misrepresented itself during the recruitment process. Among other things, the class action lawsuit cites Britt's "limited to non-existent" access to the tools and machinery needed to train in the HVAC field; the lack of knowledge from FCC's instructors; and the empty promise of future employment.
Recruiting is key
The lawsuit against FCC references multiple allegations including fraud, negligence, breach of contract and racial discrimination, but it mainly targets FCC's recruiting practices. The suit claims the college—which received $17 million in pandemic relief funds in 2020—pressures low-income students to enroll and borrow money by misleading them about its programs and services. Specifically, the lawsuit claims the school deliberately featured Black models in many of its ads; promoted itself on radio stations with predominantly Black audiences; and sponsored billboard ads in overwhelmingly Black neighborhoods.
The lawsuit charges that FCC is "discriminating against students on the basis of race by inducing them to purchase a worthless product by taking on debt they cannot repay." The complaint also contends that FCC "continues to use these recruitment and advertising tactics to target Black people for its predatory product." According to U.S. Education Department data, 85 percent of FCC's students are people of color.
FCC is also accused of using tuition money more on recruitment efforts and advertising initiatives rather than educational instruction. In the 2018 fall semester, for example, FCC spent between four percent and 18 percent of the tuition it collected on instructional expenses at its three campuses, according to U.S. Department of Education data. Tuition can cost up to $51,925, yet instructional expenses totaled $2,952 at the college's Hialeah campus, $3,032 at its West Palm Beach location, and $4,483 at its Lauderdale Lakes branch.
"For-profit colleges have a long history of perpetuating racial and economic injustices," Toby Merrill, director of the Project on Predatory Student Lending, said in a statement when the class action suit was filed. "FCC targeted Black students with a predatory product using the for-profit college playbook of lies and high-pressure recruitment, and left them in debt they could never repay. Race-conscious recruitment can be a tool to provide opportunity and promote diversity. But FCC's racial targeting for predatory products is discrimination and violates the law."
Not the first time
Legal claims in higher education gained momentum with a 2011 class action lawsuit against the Richmond School of Health and Technology (RSHT), also known as Chester Career College, a for-profit school that targeted poor and minority students who were eligible for larger federal loans and grants. In that case, RSHT was ordered to pay $5 million to more than 4,100 students that attended the school from July 2004 and February 2013.
Similar accusations have been levied against numerous for-profit colleges over the last nine years, which led to the creation of a working group comprised of 37 state attorneys general. Past defendants have included Education Management Corporation (investigated or sued in 12 states), ITT Educational Services (investigated or sued in 19 states), as well as Alta Colleges, Lincoln Technical Institute and Kaplan Career Institute, according to news reports.
William J. Pinilis, a civil trial attorney and an adjunct professor at Seton Hall University Law School where he teaches consumer law, says the FCC case was definitely fraud.
"Minorities were just flat out lied to about the education they would receive and the prospects for employment after completion of the program," Pinilis says. "They were offered high-interest, sub-prime [high risk] loans to finance their education. Many borrowers are enticed to take loans because they think the loan will enhance their financial position. However, in the Florida case, they were simultaneously lied to about the product they were getting and the cost and consequences of the loans."
Deceit was also the main culprit in a class-action lawsuit against Star Career Academy, a multi-campus occupational training school that closed in late 2016, roughly a year after a Camden County court ordered the for-profit institution to pay $9.2 million to more than 1,000 students for misrepresenting facts about the accreditation of its surgical technology program.
The rule of gainful employment
In 2015, the Obama Administration enacted the Gainful Employment Rule in order to protect students from predatory for-profit institutions by revealing how a program prepared a potential student for their career path. The rule dispersed federal student loans to schools based on their graduates' average debt-to-earnings ratio. Under the rule, if graduates don't earn enough income to pay off student loans, the school's federal aid could be in jeopardy. According to the class action complaint against FCC, 16 of its 17 programs failed under the rule's metrics.
Steve Gunderson, head of Career Education Colleges and Universities, a trade organization that represents more than 1,500 for-profit colleges, told National Public Radio that the Gainful Employment Rule holds for-profit schools to unrealistic standards.
"You've got to go into the five- or 10-year mark before most of these occupations have what you and I would call our respectable salaries," Gunderson said.
Betsy DeVos, the U.S. Education Secretary at the time, repealed the Gainful Employment Rule in July 2019 and the repeal took effect in July 2020. Former Secretary DeVos claimed the rule created burdensome reporting requirements for colleges and without the rule students would retain "the right to enroll in the program of their choice, rather than allowing government to decide which programs are worth a student's time and financial investment."
States contend the repeal harms their economies as well as students' future finances. A coalition of states, including New Jersey, is suing the U.S. Department of Education for repealing the Gainful Employment Rule. At press time, it is unclear what the fate of the Gainful Employment Rule is. A new Education Secretary could choose to re-instate it.
Discussion Questions
How do you feel about the fact that in the past mortgage lenders refused to grant loans based exclusively on the demographics (redlining) of a particular area? What do you think the purpose of redlining was?
How do you feel about the opposite problem of reverse redlining? What are the potential problems that can happen when lenders/proprietors target minorities for predatory lending?
What do you think about the Gainful Employment Rule? What role should government play in regards to protecting the interests of students who attend for-profit colleges?
Glossary Words
repealed – revoked. A law that (or amendment) is repealed has been withdrawn or cancelled and is no longer a law.
This article originally appeared in the winter 2021 edition of Respect, our diversity newsletter.