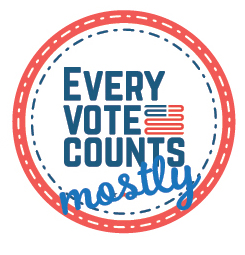 by Michael Barbella
With the 2018 mid-term election, former felons in Florida regained their long-lost right to vote when 64 percent of Florida voters backed the passage of State Constitutional Amendment 4, which overturned a Civil War-era ban on ex-convicts voting.
The measure automatically restores voting rights to criminals who successfully complete their sentences, including probation and parole. Murderers and those convicted of a sex crime are excluded from the amendment.
Considered the largest U.S. electorate expansion in nearly half a century, the Floridian ballot measure essentially ended voting restrictions for roughly 1.4 million former convicts. Prior to the amendment, felons in Florida had to wait five to seven years after completing their sentences to petition the clemency board for reinstatement on the voter rolls and most were denied.
Not so fast….
The hope of adding more than a million potential voters to the rolls, however, was cut short. In May 2019, the Florida State Legislature passed a bill (SB-7066) requiring felons to pay all court-ordered fines, fees and victim restitution before registering to vote. Florida Governor Ron DeSantis signed the bill into law in June 2019 and voting rights supporters immediately filed suit in federal court, claiming the new measure is unconstitutional and discriminatory against the poor and minorities.
The lawsuit cites data compiled by the Brennan Center for Justice, a nonpartisan public policy institute committed to reforming and defending the nation's systems of democracy. The data reveals racial and economic disparities that currently exist among Floridians. African Americans, for example, face higher unemployment rates than whites (double), and they are more likely to be arrested, charged and convicted of crimes. Accordingly, African Americans represent 33 percent of all Florida residents denied voting rights, despite constituting 16 percent of the Sunshine State's total population.
The Brennan Center's statistics also indicate that newly registered former prisoners earn nearly $15,000 less than average Floridian voters ($59,665), making it more difficult for them to pay off fines, which can run into tens of thousands of dollars. A University of Florida study came to a similar conclusion, finding that white ex-felons are twice as likely as their black counterparts to pay off all court-ordered fees.
"SB-7066 thwarts the will of these voters by basing voter registration on the ability to pay financial obligations," Leah Aden, deputy director of litigation at the NAACP Legal Defense and Educational Fund, said when the lawsuit was filed. "This law will disproportionately impact black Floridians with a felony conviction who face the intersecting barriers of accessing jobs in a state with long-standing wealth and employment disparities."
The lawsuit cites violations of the First, 14th, 15th, and 24th Amendments, and the U.S. Constitution's ex post facto clause (Article I, Section 9, Clause 3). The clause deals with the rights of the accused or convicted and essentially says that a criminal law cannot be passed making an action illegal (in this case failure to pay fines) if those actions have already been taken.
SB-7066 took effect July 1, 2019 but the ACLU and other challengers to the law returned to court in August 2019 to block its enforcement until a judge can rule on its legality. In addition, Gov. DeSantis has asked the Florida State Supreme Court for help in interpreting specific language within the law, namely whether the phrase "completion of all terms of sentence" includes fines, fees and victim restitution. With SB-7066 bogged down in court, prosecutors in Florida are considering ways to work around the law's restrictions. The Palm Beach County State Attorney's Office, for instance, is working on an alternative that would allow felons to repay their financial obligations through community service.
"I'm not surprised that the [state] legislature passed an implementing bill for Amendment 4," Palm Beach County State Attorney Dave Aronberg told online news source theintercept.com. "I always knew there would be pushback because I've always felt the requirement to make ex-felons go through the difficult process of rights restoration was partly about voter suppression."
Making it harder to vote
Voter suppression is the discouragement or prevention of citizens from voting and is a strategy often used to influence the outcome of an election. Florida is just one of 25 states that have implemented voter restriction efforts over the last nine years. Fifteen states have more restrictive voter ID laws in place (including six with strict photo ID requirements), 12 have more stringent registration requirements, 10 have more difficult early/absentee voting measures, and three make it harder for convicted felons to vote, according to the Brennan Center.
Though there are many reasons for this increase in voter restriction efforts, some legal experts believe it was triggered by the 2008 presidential election.
"In 2008 our country elected a man named Barack Obama as president. Part of the reason he got elected was because communities that had not been participating in the voting process supported him in really large numbers and he also appealed to a large percentage of people in communities that had been voting," says Myrna Pérez, director of the Voting Rights and Elections Program at the Brennan Center. "I think it startled and concerned those politicians who are more likely to get what they want with fewer people participating. Therefore, we started seeing in places where it was politically possible, the passage of laws that made it harder for people to vote."
A 2013 US Supreme Court decision made it easier to pass those laws. In a 5-4 ruling, the court struck down a key part of the Voting Rights Act (VRA) of 1965, deciding that states with a history of voter discrimination no longer needed their balloting rules approved by the federal government. Chief Justice John Roberts declared that the country had changed since the VRA's passage in 1965 and cited the election of an African American president as proof.
Since the Court's decision, more than a dozen states have passed voter restriction measures, Brennan Center statistics show. The laws vary, with some allowing for voter purges, a few addressing voter registration efforts, and others regulating polling times/locations. Kansas, for example, moved the only polling place in Dodge City outside of town, about a mile from the nearest public transportation. Similarly, North Carolina lawmakers in 2018 mandated uniform hours for early voting sites, a decision that led to a 20 percent decrease in early voting locations.
"In America, the right to vote is a fundamental right," Pérez notes. "It is the way people in our country decide tough questions to which there is disagreement, like who should be elected president and what our laws should look like. There have always been some people in this country who would benefit from preventing or making it more difficult for people that they think will vote differently than them from voting. So we see voter suppression efforts."
To combat voter suppression, Representative Terri Sewell, of Alabama, and Senator Patrick Leahy, of Vermont, introduced the Voting Rights Advancement Act in February 2019. The legislation would reinstate part of the 1965 VRA, requiring states (and political subdivisions) with voting rights violations to obtain approval from the federal government before changing their election laws.
Upon introducing the proposal, Congresswoman Sewell said the Act would "empower the Justice Department to stop voter suppression tactics before they go into place."
"When you have barriers that make it harder for people to vote, when people are trying to do things that make it harder for others to vote, that's a very un-American idea that we should all fight back against," Pérez says.
In March 2019, the legislation was referred to the House's Subcommittee on the Constitution, Civil Rights and Civil Liberties.
Discussion Questions
What do you think about felons who served their time, regaining the right to vote?
In 2019, felons were required to pay any unpaid fines, fees or victim restitution before getting their right to vote back. Do you think that is a fair requirement as a condition of restoring a person's right to vote? Why or why not?
How do you think felons feel when they have served their time and made efforts to change their lives, but aren't allowed to vote?
Glossary Words
clemency: leniency or mercy.
electorate: people in a country or area who are entitled to vote.
ex post facto: with retroactive effect or force.
nonpartisan: not adhering to any established political group or party.
overturned: to void a prior legal precedent.
parole: a conditional release from prison which allows a person to serve the remainder of his or her sentence outside of an institution but under state supervision.
probation: a non-jail sentence that judges can impose on someone who has been convicted of a crime.
This article originally appeared in the fall 2019 edition of Respect.