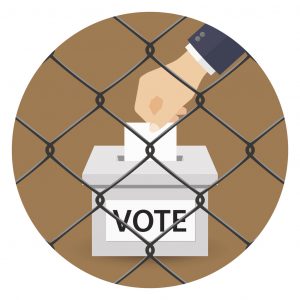 There is no mention of an "affirmative right to vote" in the U.S. Constitution; however, countless lives have been lost in the pursuit of obtaining the franchise. While many believe the country is stronger when everyone exercises the franchise, there are some that seem determined to limit it.
It has been five years since the U.S. Supreme Court issued its decision in Shelby County v. Holder, which essentially weakened the voting protections outlined in the landmark Voting Rights Act of 1965. In 2013, the Court claimed, "things have changed dramatically" since then. The Voting Rights Act put several states and parts of others under strict scrutiny where voting laws and procedures were concerned.
Whereas before 1965, instituting poll taxes and literacy tests were the preferred methods of suppressing the minority vote, today it is strict voter ID laws and racial gerrymandering that are employed. In fact, when the Court issued its decision in Shelby, within hours lawmakers from Texas and North Carolina had pushed through discriminatory voting laws.
According to the National Conference of State Legislatures (NCSL), 34 states have voter ID laws, which will be in force for the 2018 mid-term elections. Proponents of voter ID laws contend the laws are needed to fight in-person voter fraud, despite numerous studies that it is not a widespread problem. One federal judge, as reported in The New York Times, compared voter ID laws to using "a sledgehammer to hit either a real or imaginary fly on a glass coffee table."
What's Happening Now?
In the fall 2017 edition of Respect, we tackled the issue of voter suppression and then updated the story on The Respect Rundown in January 2018. In light of the upcoming mid-term elections in November, we felt another update of where lawsuits and legislation stand in certain states was warranted.
As stated in the original Respect article, voter suppression is the discouragement or prevention of citizens from voting and is a strategy often used to influence the outcome of an election.
Voter ID Laws
Before 2006, there was not a strict photo ID requirement to vote in any state, according to the Brennan Center for Justice at New York University School of Law. Research shows that implementing voting restrictions reduces voter participation overall and especially affects communities of color, low-income and young voters, as well as voters with disabilities, the Brennan Center says. The U.S. Government Accountability Office found that voter ID laws in Kansas and Tennessee depressed voter turnout by two to three percent in 2014. In a close race, that could make a big difference, but some Americans don't see presenting ID to vote as a hardship.
"Many middle-class Americans find it hard to believe there could be eligible voters without easy access to an acceptable photo ID," says Kirsten Nussbaumer, associate director of the Center for State Constitutional Studies and an assistant professor in the Political Science Department at Rutgers. "In fact, members of some groups, such as low-income, minority, rural, the disabled and the elderly, are less likely to have easy access to the required documents."
Challenges in Four States
Since the presidential election in 2016, four states—Arkansas, Iowa, Missouri and North Dakota—have enacted voter ID laws. Challenges to those laws have had mixed results.
Voters in Missouri approved a 2016 ballot measure that instituted its voter ID law. In January 2018, a lawsuit brought on behalf of the Missouri NAACP and the League of Women Voters that claimed the law made it harder for poor and minority residents to vote, was dismissed. However, in June 2018, Priorities USA, a voting rights advocacy group, filed a lawsuit on behalf of Mildred Gutierrez, a 70-year-old resident who has been registered to vote in Missouri for more than 40 years and actually served as an election judge in the state. Gutierrez is not eligible for a driver's license due to her failing eyesight.
In Iowa, a lawsuit filed in May 2018, which is also being funded by Priorities USA, claimed that the state's law violates its constitution and will make it harder for some residents to cast a ballot. The League of United Latin American Citizens of Iowa and an Iowa State University student are the plaintiffs in the case. In July 2018, a district court judge granted a temporary injunction, blocking some provisions of the 2017 law. The injunction required the state to restore a longer early voting period for the mid-term election (from 29 days to 40 days prior to Election Day), blocked an identification number requirement for absentee ballot application and put on hold a measure giving election officials signature-matching authority when rejecting absentee applications and ballots. The judge also took issue with how the state was promoting the voter ID portion of the law, calling it misleading. Iowans will not need to produce ID to vote in the 2018 mid-term election. That portion of the law will go into effect in 2019, but the promotional materials being distributed by the state implied that voters would be turned away in 2018 if they did not produce ID. The district court judge in her ruling wrote: "The harm to the registered voters who may become disenfranchised or experience substantial obstacles in voting is greater than any harm to the state." Iowa's secretary of state said the state would immediately appeal the lower court's decision to the Iowa Supreme Court.
The Arkansas Supreme Court ruled in May 2018 that the state could enforce its voter ID law. A circuit court judge had granted a preliminary injunction blocking the law but the state's supreme court effectively stayed that ruling.
Six Native Americans in North Dakota took issue with two different versions of the state's voter ID law, claiming it was disproportionately burdensome on Native American voters. A ruling in April 2018 issued a temporary injunction blocking the state's voter ID law and broadened the acceptable forms of ID allowed while the lawsuit progresses, including federal tribal IDs that most Native Americans possess. In his ruling, U.S. District Court Judge Daniel Hovland wrote: "The reality is that the State of North Dakota in this lawsuit has failed to demonstrate any evidence of voter fraud in the past or present." In June 2018, the Eighth Circuit U.S. Court of Appeals denied North Dakota's request to stay Judge Hovland's ruling while the case is still under review.
Where challenges are still undecided, it is unclear whether rulings will be made in time for Election Day.
Proving Citizenship in Kansas    
A 2011 Kansas law that by some estimates blocked 35,000 Kansans from registering to vote was struck down in June 2018. The law, which went into effect in 2013, was pushed by Kansas Secretary of State Kris Kobach, and required that potential voters show proof of citizenship, such as a birth certificate or passport, before being allowed to register.
The lawsuit, brought by the American Civil Liberties Union, claimed the requiring proof of citizenship violated federal law, which only requires that prospective voters declare their citizenship under penalty of perjury. Kobach is a staunch proponent of the notion that widespread voter fraud exists in the U.S., which is why he contends the law is needed.
Kobach's own witnesses during the trial, however, testified that of 1.8 million registered voters in Kansas, they found only 129 noncitizens attempting to register to vote. Of those 129 cases, only 11 people actually voted. Kobach attempted to argue that these cases are just the "tip of the iceberg." But in her 118-page ruling federal district Judge Julie A. Robinson wrote: "Instead, the Court draws the more obvious conclusion that there is no iceberg; only an icicle, largely created by confusion and administrative error."
MORE TO THE STORY
UPDATE: Following a district court's orders, Native Americans in North Dakota were able to vote in the June 2018 primaries as long as they presented IDs with a current street address or mailing address, which included P.O. Box addresses. In September 2018, the U.S. Court of Appeals for the Eighth Circuit put that order on hold, prompting the challengers to appeal to the U.S. Supreme Court for relief.
In October 2018, the U.S. Supreme Court issued a 6-2 ruling not to vacate the Eighth Circuit's decision, which means that for the November election all North Dakota voters will need to present ID with a street address. An ID with a P.O Box is not sufficient. The ruling renders many tribal IDs invalid as an acceptable form of identification.
Justice Ruth Bader Ginsburg dissented from the Court's majority saying the ruling will present "severe risk of grand-scale voter confusion." Justice Ginsburg wrote: "Reasonable voters may well assume that the IDs allowing them to vote in the primary election would remain valid in the general election."
Jacqueline D. DeLeon, an attorney for the Native American Rights Fund, told Voice of America, "It is the height of irony that Native Americans, the original inhabitants of this land, are being forced to prove their residency to be able to participate in American democracy. It is undemocratic that they must do so with a qualification of a residential street address that they do not have through no fault of their own."
Glossary Words:
appeal: a request that a higher court review the decision of a lower court.
franchise: the right to vote.
injunction: an order of the court that compels someone to do something or stops them from doing something.
plaintiff: person or persons bringing a civil lawsuit against another person or entity.
stay: an order to stop a judicial proceeding or put a hold on it.
vacate: cancel or annul (a judgment, contract, or charge).
Relevant Articles:
Check out the original article: Real Threat to Democracy is Voter Suppression, Not Fraud
Relevant article from fall 2017 Legal Eagle: Voter Fraud, Rare or Rampant?