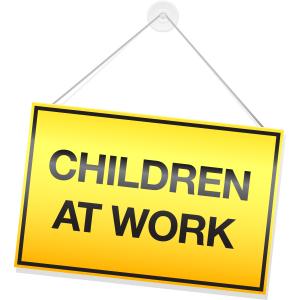 by Maria Wood
Faced with a nationwide labor shortage since the COVID-19 pandemic, several states, including New Jersey, have loosened their child labor laws to help employee-strapped businesses hire more staff.
According to a June 2023 report from the Economic Policy Institute, a nonprofit think tank that researches the impact of economic policies, 14 states have either passed or introduced bills in the past two years amending their child labor laws. Some states have proposed expanding the hours minors between the ages of 14 and 17 can work, as well as allowing them to work in industries previously off limits to them.
History of child labor in U.S.
The societal acceptance of child labor goes back to America's founding. In a 1791 report on manufacturing, then Secretary of the Treasury Alexander Hamilton wrote that children "who would otherwise be idle" could be a source of cheap labor. A national weekly magazine published around that same time stated that factory work was not for "able-bodied men" but "better done by little girls from six to twelve years old."
According to the U.S. Bureau of Labor Statistics, roughly 18% of children ages 10 to 15 were employed between 1890 and 1910. For most of the 19th and early 20th centuries, it was common for young children—some not yet in their teens—to work on farms, in cotton mills, factories, and mines. By 1820, children made up more than 40% of mill workers in three New England states.
Many children were employed in dangerous occupations, such as mining and factory work. Stories of children suffering horrific injuries while on the job were common. While those stories failed to change child labor reforms on a national level, by the early 1900s some states had put restrictions on minors working.  Alabama, for example, set a minimum working age of 12. Other states and the District of Columbia set the minimum age at 14. Public sentiment against child labor continued to grow, until federal legislation was passed in 1938.
Along comes the FLSA
President Franklin D. Roosevelt signed the landmark Fair Labor Standards Act (FLSA) into law in January 1938. The FLSA set a minimum wage of 25 cents an hour and limited the work week to 44 hours for all workers. The law also placed restrictions on child labor, setting the minimum age for non-agricultural occupations to 14 and restricting the hours 14- and 15-year-olds can work to outside school hours.
The law stipulated that 16- and 17-year-olds could not be employed in any occupation deemed hazardous by the Department of Labor. Industries considered to be hazardous included mining, manufacturing, roofing, meat processing and commercial baking. For those jobs, a person must be at least 18 years of age. The FLSA does not set down the number of hours that 16- and 17-year-olds can work, leaving that to the states.
The U.S. Labor Bureau of Statistics points out that the FLSA only covered 6% of the 850,000 children working at the time, as many were working agricultural jobs not covered by the law. Despite the limited scope of the law, by the 1930s, labor by minors was on the decline. Carmen Martino, a professor at Rutgers University's School of Management and Labor Relations, points out that the FLSA was passed in the middle of the Depression, a time when adults were having difficulty finding good-paying jobs. Children were seen as low-wage competition, he says.
"That was the impetus for keeping kids out of the workplace at that time," Professor Martino says. "Years later, there is a labor shortage, so we have the rewriting of the child labor laws."
Changes in Iowa
Iowa lost 75,000 workers during the pandemic. In May 2023, Iowa Governor Kim Reynolds signed a bill into law that the Economic Policy Institute calls "one of the most dangerous rollbacks of child labor laws in the country" and points out that some of the changes violate federal law. For example, Iowa's law permits 14- and 15-year-olds to work in industrial laundry services and light assembly work—jobs previously off limits for that age group. Additionally, the new law increases the hours a 14- and 15-year-old can work from four to six hours a day when school is in session.
Some jobs once considered too hazardous and only open to those 18 or older are now allowable for 16- and 17-year-olds, including light assembly work in facilities that manufacture or store explosives, and commercial motor vehicle driver and helper. Teens that are 16 and 17 in Iowa can also now serve alcohol in restaurants, provided the teen has written permission from a parent or guardian. Two adults must supervise them when dispensing alcohol, and the teen must also complete a training program on "prevention and response to sexual harassment."
If approved as a "work-based learning" or "school or employer-administered, work-related program," 16- and 17-year-olds can operate power-driven machinery, including for woodworking, metal forming, punching and shearing. Operating power-driven bakery machines and paper product machines, such as balers and compactors, as well as circular saws and band saws are also open to this age group. All these positions fall into the hazardous work category and were previously off limits. According to the Economic Policy Institute, if employers follow the weaker state law, ignoring federal law, it will be up to the federal government to seek compliance.
Arkansas & New Hampshire
Other states are easing restrictions on how teens are hired as well. In March 2023, Arkansas Governor Sarah Huckabee Sanders signed the Youth Hiring Act of 2023 which eliminated the requirement that teens under the age of 16 obtain an employment certificate from the state's Division of Labor. The certificates included the child's age, job duties, and written permission from a parent or guardian. Arkansas businesses still cannot hire a minor under 14.
A spokesperson for Arkansas Governor Sarah Huckabee Sanders told CBS MoneyWatch that protecting children is "most important" to the governor; however, the previous permission requirement was "burdensome and obsolete."
In June 2022, New Hampshire Governor Chris Sununu signed a bill lowering the age a minor can bus tables where alcohol is served from 15 to 14. In addition, teens aged 16 and 17 can work up to 35 hours a week on any shift when school is in session. The previous cutoff was 30 hours. During the summer and school vacations, 16- and 17-year-olds can work 48 hours a week.
Changes in New Jersey
In New Jersey, Professor Martino says the pandemic created a severe labor shortage, especially during the summer months at the Jersey Shore. In past years, employers relied on workers from Ireland or Eastern Europe to fill summertime jobs, he says. When that labor supply dried up due to Covid, "pressure was put on the state to allow some loosening of child labor laws so minors could do those jobs," Professor Martino says.
In July 2022, the state amended its child labor laws, expanding the time 16- and 17-year-olds can work from 40 hours a week to 50 hours when school is out. In addition, under the law signed by Governor Phil Murphy, 14- and 15-year-olds are permitted to work 40 hours during summer vacation and eight-hour shifts on holidays during the school year. The new law also increases the time a minor may work without a break to six hours instead of the previous requirement of five. The bill passed with bipartisan support and the law went into effect as of June 1, 2023.
In addition, New Jersey teenagers are no longer required to obtain working papers from their school. Instead, the state has set up a database that will be maintained by the New Jersey Department of Labor. With this new system, teens and their potential employers register with the state. Parents and guardians will receive an email notifying them of the child's potential employment, and they have two weeks to approve or decline.
Professor Martino says he has mixed feelings about the labor law changes. While students gain valuable on-the-job experience and skills by starting work at a young age, he worries that minors and their parents may not be aware of the regulations governing child labor, and employers may skirt the laws. For example, he points out that by New Jersey law anyone, including a minor, that works more than 40 hours a week is entitled to overtime pay.
"If employers are ignoring the labor laws around child labor or low-wage workers, they may also ignore laws around health and safety and other labor standards that they should be adhering to but are not," Professor Martino says.
Illegal child labor on the rise
Despite child labor laws on the federal and state level, there has been a 69% hike in children employed illegally since 2018, according to the U.S. Department of Labor. In the last fiscal year, the agency said it found 835 companies employing more than 3,800 minors in violation of child labor laws. The agency also noted the problem has been exacerbated by the illegal hiring of underage unaccompanied migrant children.
In 2022, the number of migrant children crossing the border by themselves reached a high of 130,000. In February 2023, The New York Times reported on the exploitation of migrant children who were working dangerous and demanding jobs—in violation of federal law—for such companies as Target, Whole Foods, Walmart, and Hearthside Food Solutions, which packages food for General Mills, Quaker Oats and Frito-Lay.
In the workplace, children are vulnerable to injuries. The National Institute for Occupational Safety and Health estimates 160,000 children suffer occupational injuries every year, with approximately 54,800 of these injuries needing treatment at an emergency room. According to the expose in The New York Times, "a dozen underage migrant workers have been killed on the job since 2017."
In February 2023, Packers Sanitation Services, Inc. (PSSI), which among other things provides cleaning services for meat packing plants, was cited by the U.S. Labor Department for employing more than 100 minors between the ages of 13 to 17. These minors worked in 13 plants across eight states, some in dangerous conditions.
The U.S. Department of Labor fined PSSI $1.5 million. Currently, the maximum penalty for a child labor violation is $15,138 per child. In February 2023, the Labor Department announced plans to form a task force to combat child exploitation in the workplace, which would also increase enforcement actions against child labor law violators.
Discussion Questions
Are there benefits of filling the labor shortage with teenagers? Are there drawbacks? How young do you think is too young to work? Explain your answer.
Select one state mentioned in the article and outline the reasons you would defend or oppose the changes to its child labor laws. Explain your argument in detail.
Glossary Words
bipartisan — supported by two political parties.
minor — a person under 18 years of age.
This article originally appeared in the fall 2023 edition of The Legal Eagle.