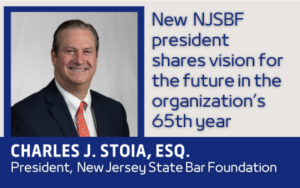 Charlie Stoia knows the influence of the New Jersey State Bar Foundation through his 25 years of service to the organization.
As the newly sworn-in president of the Foundation, Stoia is honored to take the reins in the organization's 65th year of serving as the educational and philanthropic arm of the New Jersey State Bar Association. Ready to embark on a two-year term, he plans to further the Foundation's mission of  providing educational resources, civics training and scholarship funding to thousands of school children, educators and law students across the state.
Stoia, of Porzio, Bromberg & Newman in Morristown – recently shared his history with NJSBF, his proudest achievements as a volunteer and vision for the future.
What inspired you to join NJSBF and how long have you been involved?
My history with the Foundation started about 25 years ago when I joined the law school scholarship committee. The great thing about the Foundation is the multifaceted programs and benefits they provide. Our mission is to inform citizens of New Jersey about the law and to also provide services to those in need. Not specifically legal services, but educational services to the community that are consistent with our mission of increasing awareness and knowledge of the law and legal system. Whether it's programs for schools, educators, the public or through the law-related educational initiatives we co-sponsor with other nonprofits, everything is for the benefit of people. We don't deal with political issues. All we do is good. I find it to be a very positive, fulfilling experience.
What is your proudest accomplishment or most rewarding project as a volunteer for the Foundation? 
I take particular pride in the law school scholarship program. I've been involved in it for so long because I believe we truly help deserving people who have already accomplished incredible things in their lives. The scholarship program benefits law students from all walks of life – people who have been unhoused, in domestic violence situations, first-generation Americans, women, first-generation college graduates, and those in the LGBTQ+ community. They have literally fought through whatever life has thrown at them and gotten to the point where they are now in law school. One of the components that we consider in awarding scholarships is the applicant's service to the community. We take great pleasure in being able to support and assist these folks who have already made community service a priority in their lives. The scholarships we give are appreciated and help set the recipients on the right path.
Discuss your vision as president and what you would like to accomplish.
For many years we have offered incredible programs that, in all honesty, will be difficult to improve upon. What the board, our staff and I aim to do is develop additional programs that address new and current issues that come up in our lives and in society. For example, we rolled out a great new training program for educators last year on restorative justice.
This training complements the Foundation's other training courses and helps students and teachers address conflict in schools, which helps prevent bias, bullying and violence. To date we have trained hundreds of teachers from across New Jersey in this method which helps build more inclusive and happier school environments. And the positive response from teachers has been tremendous. This is one example of the type of things we want to keep doing – initiatives that are new, innovative and help the community.
 There are many aspects of the Foundation—the mock trial program, grants and scholarships, the publications that expand the public's knowledge of the legal system and foster pride in the practice of law. How do you think the Foundation makes a difference not just for attorneys but the residents of New Jersey?
Many of our programs do foster pride in the practice of law. We have hundreds of attorneys who volunteer their time and expertise in our mock trial programs, our speakers bureau and on many different committees. They have shared how rewarding and inspirational it is to be a part of the Foundation's programs.
To help with expanding knowledge of the legal system, we reach thousands of teachers every year through our trainings and publications like The Legal Eagle, which is a newspaper for kids, and Respect, a newsletter about diversity and inclusion. The ripple effect is such that we are impacting thousands and thousands of students through their teachers. It goes to show that the Foundation has a great influence on the lives of non-lawyers.
One of the Foundation's slogans is that "informed citizens are better citizens." What does that statement mean to you?
Society works best when all citizens are good citizens. Part of being a good citizen is being informed of your rights and the rights of others. Our entire society works better when all citizens are informed. The law is complicated.  I believe that the idea that "informed citizens are better citizens" is reflected in everything the Foundation offers. Our school and public programs, and conferences, are designed to increase awareness, appreciation and knowledge of the law to ensure everyone is aware of their rights under the law.
This year the Foundation is celebrating 65 years as a nonprofit. What do you think has contributed to the Foundation's longevity? And how do you think the Foundation can maintain its relevance and effectiveness, or even improve it? 
Our world is changing all around us. Regardless of what anyone thinks of the current state of affairs, it's clear that society is far different than it was even five years ago. The Foundation has been so successful for the last 65 years because it has adapted with the times and conformed with how the world changes. It's incumbent on us as leaders of the Foundation to observe and recognize those changes and continue to develop new programs, or tweak our current programs accordingly to complete our mission, which is to ensure that citizens are informed of the law and their rights.
As far as the Foundation's longevity is concerned, I can't say enough about our great staff. They are the ones who prepare and put on the incredible programs we offer working with our board, trustees and committees. We all share a common vision which is a testament to why we've been so successful. The willingness of lawyers to volunteer their time to assist in all of our programs, and the support of the New Jersey State Bar Association and its members in all of our activities, has been crucial.
For more about the Foundation, visit njsbf.org.
Originally published June 19, 2023
Bar Report of the New Jersey State Bar Association
https://tcms.njsba.com/PersonifyEbusiness/News.aspx