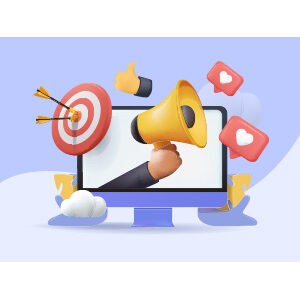 by Michael Barbella
The framers of the U.S. Constitution could never have imagined social media; however, the First Amendment to the U.S. Constitution does apply to online speech as well as the spoken or written word. Social media companies, however, have First Amendment rights as well and can impose their own rules regarding offensive or potentially dangerous speech.
The U.S. Constitution safeguards hate speech from government censorship; however, it does not protect speech that incites or is likely to incite imminent lawless action. In addition, speech that is considered an incitement to riot that may potentially disturb the peace is also not protected.
"We turn to the question of whether a social media company violates the First Amendment when it bans politicians, or anyone else, from using its services because of their speech," says Mark S. Weiner, a professor at Rutgers Law School—Newark who has written books on the relation between government and individual freedom. "The answer is clearly 'no' because the First Amendment applies only to government action. Individuals have no First Amendment rights against the actions of private companies. Social media companies currently have largely unrestricted power to regulate content on their platforms as they see fit."
Free speech on Twitter
Twitter, as well as other social media companies, has been accused of manipulating its algorithm to control content moderation. In April 2022, when billionaire Elon Musk, owner of Tesla and SpaceX, bought Twitter, he vowed to relax the social media platform's free speech rules.
In press interviews, as well as on his Twitter account, Musk has stated that he believes the rights outlined in the First Amendment are unalterable and should have no, or very few, exceptions. He was interviewed by Chris Anderson, leader of TED (Technology, Entertainment & Design) for the TED2022 conference in Canada shortly after acquiring the platform. Musk told the TED2022 audience that he would endorse more lenient policies on what can be tweeted on the platform and would also make Twitter's content ranking process more transparent. Specifically, Musk suggested open sourcing Twitter's algorithm to make it more transparent.
"Obviously, Twitter or any forum is bound by the laws of the country that it operates in. There are some limitations on free speech in the U.S. and of course, Twitter would have to abide by those rules," Musk told Anderson.
He also talked about the importance of having "an inclusive arena for free speech" and that he believes a good sign of healthy free speech is whether someone you don't like is allowed to say something that you don't agree with.
"It's damn annoying when someone you don't like says something you don't like but that is a sign of a healthy, functioning free speech situation," Musk said.
The billionaire has likened Twitter to a modern-day town square, an analogy that David Hudson, a professor at Belmont University Law School says has some merit. Professor Hudson, who has devoted his career to First Amendment issues and is a fellow for the Freedom Forum Institute, points out that "people's primary mode of communication is online" and "social media is a primary way that people communicate."
As Musk told the TED2022 audience, his basic rule of thumb for a questionable tweet is to let it stand in most cases.
"If it's a gray area, I would say let the tweet exist," Musk said. "I'm not saying I have all the answers here. But I do think we want to be very reluctant to delete things and just be very cautious with permanent bans. Time-outs I think are better than permanent bans."
Starting in November 2022, Musk began reinstating thousands of previously banned Twitter users who had violated the platform's policies. According to the Center for Digital Hate (CCDH), slurs against marginalized groups have spiked since Musk took over Twitter and relaxed its free speech rules. For example, CCDH research revealed that before Musk took over, Twitter had an average of 1,282 tweets per day that slurred Black people. After the takeover, the number jumped to 3,876. In addition, anti-Semitic tweets increased by more than 60%.
Banning politicians
Both bans and time-outs have been used by Twitter, Facebook, and other social media companies in the last few years to punish members who violate their policy rules. Some of those rule breakers were politicians cited for inflammatory or false statements.
U.S. Representative Marjorie Taylor Greene of Georgia, for example, received several time-outs in 2021 before Twitter permanently suspended her personal account in January 2022 for violating the platform's COVID-19 or medical misinformation policy. Twitter imposed the ban after Rep. Greene tweeted unverified information about the COVID-19 vaccine. Rep. Greene's congressional account, however, remained active, as it had not broken any policy rules. Her personal account was one of the thousands that were reinstated in November 2022.
In response to Rep. Greene's suspension, as well as the many other politicians who were banned, Twitter spokeswoman Katie Rosborough told The New York Times, "We've been clear that, per our strike system for this policy, we will permanently suspend accounts for repeated violations."
Rosborough relayed that users could appeal and potentially reverse suspensions if they could prove their questionable tweets were factual. It is unclear whether Rep. Greene appealed any of her five suspensions.
The most high-profile suspension from Twitter was former President Donald Trump. Twitter initially disabled the President's account for 12 hours on January 6th, the day of the riot at the U.S. Capitol, then shut it down for good shortly after, saying he violated the platform's Civic Integrity Policy. When it announced the permanent ban of the former president, Twitter cited "the risk of further incitement of violence." YouTube and Facebook mirrored that rationale in suspending President Trump from their platforms. YouTube is a lifetime ban, while Facebook banned him for two years. His account is scheduled to be reinstated on January 6, 2023. Again, with Musk taking over Twitter, the former president's account there was reinstated.
Former President Trump and other politicians criticized their suspensions, claiming they violated their free speech. Such allegations reignited a longstanding debate about the limits of free speech on social media platforms.
So, is spreading misinformation or disinformation on a social media platform protected by the First Amendment? Professor Hudson says sometimes false speech is protected by the First Amendment and other times it is not.
"For example, if the disinformation falls into the category of fraud, it is not protected," Professor Hudson says. "If it falls into a category that causes real, cognizable harm—that is also not protected."
Regulating at the state level
According to the National Conference of State Legislatures, more than 100 bills that target social media companies' moderation practices have been proposed nationwide. These bills attempt to limit the power of social media companies.
Florida lawmakers passed a bill in May 2021 that penalized social media firms that permanently ban state politicians. Signed by Florida Governor Ron DeSantis, the Stop Social Media Censorship Act gives $250,000 daily fines to social networks that suspend accounts of statewide office holders and $25,000 daily penalties for banning candidates of lower (county, local) offices. The law applies to social media platforms that conduct business in Florida and generate $100 million in annual revenue or have 100 million monthly active users globally.
In June 2021, a federal court blocked the Florida law from taking effect. In May 2022, the U.S. Court of Appeals for the 11th Circuit ruled that Florida could not prohibit social media platforms from removing or banning political speech or politicians. "Laws that restrict platforms' ability to speak through content moderation therefore trigger First Amendment scrutiny," the 11th Circuit Court said.
In September 2022, Florida asked the U.S. Supreme Court to review the law, noting that the U.S. Court of Appeals for the 5th Circuit allowed a similar law in Texas to take effect. That law permits the state and its residents to sue social media companies for banning, blocking, removing, or discriminating against individual posts based on users' opinions or geographic location.
The U.S. Supreme Court temporarily blocked the Texas law in May 2022 while lower courts reviewed the case. In September 2022, the 5th Circuit sided with Texas; however, the law will not take effect until the appeals court issues written instructions to the district court where the case originated.
"Do these laws violate the First Amendment? On one hand, the answer would seem to be clear-cut," Professor Weiner explains. "After all, the laws use the power of government to abridge the freedom of speech, at least the speech of corporations."
According to Professor Weiner, some legal scholars point out that the traditional legal theories preventing the government from exercising public control over social media were developed before the Internet age. The argument, he says, is that social media now has a special place in our democratic political life, and the law should recognize that role. In addition, Professor Weiner says, the scholars argue that major companies like Facebook or Twitter are less like a simple private business and more like a telephone service or "common carrier" that can be subject to special regulation in the public interest.
"They argue Americans should be especially concerned about the power of social media corporations to restrict speech because those companies sometimes seem to act at the behest of one political party or one branch of government," Professor Weiner says.
If the U.S. Supreme Court grants Florida's request—and legal experts believe they will—its decision could potentially have consequences beyond the Sunshine State.
Discussion Questions
Do you agree or disagree with the concept of social media, specifically Twitter, being the equivalent of a town square where free speech should be protected? If so, should all speech be protected on these platforms, including hate speech? Explain your answer.
As Professor Weiner makes clear, the First Amendment applies only to government action and entities. So, private companies, like Twitter, Facebook, Instagram, etc., have the power to regulate the content on their platforms. Do you think social media companies should have that power? Explain your answer.
Do you support time-outs or permanent bans for users that violate the policies set up by an individual platform? Is it the responsibility of social media platforms to combat misinformation and hate speech? Explain your answer.
Glossary Words
algorithm—a process or set of rules to be followed in calculations or other problem-solving operations, especially by a computer.
This article originally appeared in the winter 2023 edition of The Legal Eagle.