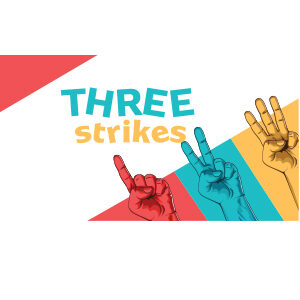 by Maria Wood
"Three strikes and you're out" doesn't just refer to baseball, it also applies to those who commit serious crimes in the Garden State. New Jersey is one of 28 states that have three strikes laws on the books.
Passed in 1995, New Jersey's Three Strikes Law is based on a federal law, also passed in 1995, known as the Violent Crime Control and Law Enforcement Act. The law imposes mandatory life imprisonment for repeat offenders convicted of serious crimes at the federal level.
In February 2022, the New Jersey Supreme Court ruled that offenses committed while a defendant was under the age of 18 could be counted as a strike under the state's Three Strikes Law, known as the Persistent Offender Accountability Act. New Jersey's statute sets a mandatory sentence of life without parole for anyone convicted of a serious offense three times. Those offenses include murder, manslaughter, aggravated assault, kidnapping, sexual assault and robbery.
State v. Samuel Ryan
The New Jersey case involved Samuel Ryan, now age 49. In 1996, when Ryan was 23, he was sentenced to life without parole under the New Jersey Three Strikes Law. His adult crime was robbing a gas station and shooting the attendant. The gas station attendant survived. The Three Strikes Law was applied to Ryan's case because he was convicted of two armed robberies when he was 16 years of age.
Ryan appealed the decision, arguing the convictions while he was young should not be counted. His appeal noted that in recent years, the U.S. Supreme Court has ruled in a number of landmark cases that juveniles should not be subject to the same harsh penalties as adults.
In a 4-2 decision, the New Jersey Supreme Court denied the appeal and upheld the state's Three Strikes Law, allowing that, even if offenses were committed while a person was 18 or younger, those convictions may count toward the three strikes.
In the majority opinion, Justice Lee Solomon pointed to Ryan's conviction at 23 after serving in prison for his juvenile crimes. "Defendant was not only undeterred by incarceration, but his crimes committed after release from state prison grew increasingly violent."
Justice Barry Albin dissented, saying the ruling counteracted evolving judicial philosophy regarding juvenile sentencing.
"No one disputes that Ryan has committed serious crimes warranting punishment and a lengthy sentence," Justice Albin wrote. "But a law that mechanically imposes a grossly disproportionate sentence, a law that strips a court from considering the incapacitating element of youth, and a law that denies the court all discretion in fashioning a sentence based on a youthful conviction cannot be reconciled with our federal or state constitutional jurisprudence."
In his dissent, Justice Albin quoted Governor Phil Murphy, who said in 2020, after signing criminal sentencing reforms related to juveniles, "The social, emotional and mental maturity of a youthful defendant is complex and nuanced. That very fact makes it critical for the age of a defendant to be factored by the court in criminal culpability."
Strict interpretation of the law
Laura Cohen, Director of the Criminal and Youth Justice Clinic at Rutgers Law School, says the court based its ruling on a strict interpretation of the state's law.
"Because the law didn't specifically say youth offenses could not count as strikes, then the legislature must have meant for those offenses to be included," Professor Cohen says and adds that the ruling is an example of how checks and balances work between the judicial and legislative arms of government.
"Unless a court finds a statute violates the constitution, the court is going to defer to what the legislature did," explains Professor Cohen, who has also worked with the New York City Legal Aid Society's Juvenile Rights Division. "But at the same time, statutes can always be amended."
Evolving juvenile jurisprudence
Because of the Ryan decision's limited scope, it will not impact other court rulings that may take into account a young person's developmental immaturity and impaired decision-making ability when sentences are imposed, Professor Cohen says. Recent decisions in New Jersey and at the U.S. Supreme Court have struck down lengthy sentences for juveniles convicted of serious crimes, she notes. In January 2022, a month before the Ryan ruling, the New Jersey Supreme Court handed down a decision in the combined cases of James Comer and James Zarate.
At age 17, Comer received a 75-year sentence for a series of armed robberies in 2000 during which one person was killed. In 2009, Zarate was sentenced to life in prison when he was 14 years old for his part in a murder.
In the Comer/Zarate ruling, the New Jersey Supreme Court said a "mandatory sentence of at least 30 years without parole, which the murder statute requires, is unconstitutional as applied to juveniles." Therefore, the Court ordered that lengthy sentences for young persons could be revisited after 20 years.
Due to the Court's ruling, Comer, who has served 22 years of his sentence, is immediately eligible to apply for parole. Zarate will be able to petition for release in approximately three years.
According to a brief filed in the Comer case, the American Civil Liberties Union estimates approximately 60 inmates could be affected by the state's ruling. Meanwhile, a survey of juvenile life without parole sentences by the Sentencing Project, a Washington, DC-based research and advocacy center working to reduce incarceration in the U.S., found 1,465 people nationwide serving life or what amounts to life sentences for crimes committed as juveniles.
Psychology & the Court
The U.S. Supreme Court has held that juveniles, even when convicted of serious crimes, should be treated differently. In a 2004 article titled, "Less Guilty by Reason of Adolescence: Developmental Immaturity, Diminished Responsibility and the Juvenile Death Penalty," published in American Psychologist, the authors argued "there is sufficient indirect and suggestive evidence of age differences in capacities that are relevant to criminal blameworthiness to support the position that youths who commit crimes should be punished more leniently than their adult counterparts."
The year after that article was published, the U.S. Supreme Court struck down the death penalty for an offender charged with murder when he was 17. The Court's decision in Roper v. Simmons launched what Professor Cohen termed a renewed look at juvenile justice, taking into account the differences between children and adults. In other words, because of their lack of maturity to make good decisions, young people may be less culpable. Because of their youth, they are also more likely to reform as they grow older, she contends. Such factors should come "into play as we consider how children are sentenced," Professor Cohen says.
Other U.S. Supreme Court decisions have been based on the same philosophy. In Graham v. Florida, the Court struck down a sentence of life without parole for a 16-year-old convicted of burglary. In perhaps the most significant decision relating to juveniles, the U.S. Supreme Court decided in the 2012 case of Miller v. Alabama that life without parole should not be imposed on youth even when convicted of homicide. In that case, a 14-year-old was convicted of murder after setting a neighbor's trailer on fire.
Going back to the Ryan decision, Professor Cohen notes that the Court's reasoning was based on the last strike, when Ryan was 23, not the previous strikes as a juvenile. "So, the argument about lesser culpability and potential for change that attach to adolescence didn't apply in the same way."
Professor Cohen notes that states have revised juvenile sentencing in different ways. Some states mandate automatic parole for young persons. Others, like New Jersey, have created a resentencing process. Even though Miller and similar cases were decided a decade ago, Professor Cohen says that juvenile jurisprudence is "still a work in progress."
Discussion Questions
What do you think about the New Jersey Supreme Court's ruling in State v. Ryan and their decision to count his juvenile offenses as strikes? Can you think of other remedies that the justice system could have taken to prevent Ryan from committing more crimes?
The U.S. Supreme Court has consistently ruled with more leniency when considering juvenile cases, because of their "lack of maturity" and their likelihood to "reform as they grow older." Do you agree or disagree with the Court's reasoning? Explain your answer.
Glossary Words
appealed—when a decision from a lower court is reviewed by a higher court.
jurisprudence—the philosophy of law.
majority opinion—a statement written by a judge or justice that reflects the opinion reached by the majority of his or her colleagues.
parole—a conditional release from prison which allows a person to serve the remainder of his or her sentence outside of an institution but under state supervision.
statute—legislation that has been signed into law.
This article originally appeared in the fall 2022 issue of The Legal Eagle.