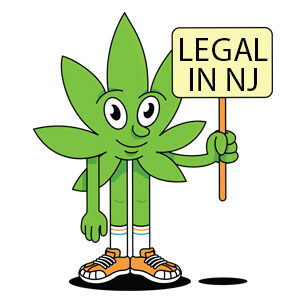 by Maria Wood
In February 2021, New Jersey became the 14th state to legalize adult marijuana use when Governor Phil Murphy signed into law the New Jersey Cannabis Regulatory, Enforcement Assistance, and Marketplace Modernization Act. New Jersey legislators had attempted and failed to legalize marijuana in the Garden State twice. It took New Jersey voters approving a referendum to establish a state constitutional amendment to legalize recreational cannabis use for people at least 21 years of age. In November 2020, 66% of New Jersey voters (2.7 million) voted to establish the amendment.
While New Jersey voters pushed legal marijuana use over the finish line, it was still necessary for the New Jersey Legislature to work out the details of the law, which is why there has been a delay in implementation. Under the new law, adults aged 21 or over can possess up to six ounces of marijuana, which they can consume on private property. Public consumption is prohibited, as is driving while under the influence of cannabis. Those who possess or distribute larger amounts of cannabis outside of the legal market will be subject to fines and criminal prosecution.
For example, possession of more than six ounces would bring a fine of $25,000 and a jail term of one-and-a-half years. A first offense for distributing less than an ounce outside of the legal parameters would carry no penalty. However, a second offense for distributing less than an ounce would be considered a crime with a possible 18-month jail term and a $25,000 fine. Distributing larger amounts would be subject to harsher penalties.
According to the National Conference of State Legislatures, 18 states, including New Jersey, have regulated adult-use cannabis. The Garden State had already legalized cannabis treatment for certain medical conditions in 2015. As of 2021, the state had licensed 23 medical marijuana dispensaries. Those medicinal dispensaries will be given preference in setting up recreational marijuana sales, as long as they have enough stock to supply patients and caregivers.
The New Jersey Cannabis Regulatory Commission (CRC) will oversee the licensing application process, which will cover six categories: cultivators, manufactures, wholesalers, retailers, distributors and delivery services. The commission began ramping up the application process in December 2021; however, the first general public dispensaries are not likely to be up and running until February 2022 at the earliest and some estimates are even later.
Inequities in the war on drugs
Governor Murphy framed the legalization of cannabis in New Jersey as a social justice issue.
"Our current marijuana prohibition laws have failed every test of social justice, which is why for years I've strongly supported the legalization of adult-use cannabis," Governor Murphy said in a statement after signing the law. "Maintaining a status quo that allows tens of thousands, disproportionately people of color, to be arrested in New Jersey each year for low-level drug offenses is unjust and indefensible."
One aim of the legislation is to address the disproportionate impact the war on drugs and marijuana arrests has had on communities of color and in economically challenged municipalities, say its proponents. The war on drugs refers to policies, implemented in the 1970s during the Nixon Administration, to "eradicate drugs." Those policies focused on incarceration and have been criticized for resulting in the mass incarceration of African Americans. The effects of those 1970s policies still resonate today.
For example, according to the American Civil Liberties Union, Black people in New Jersey are 3.5 times more likely to be arrested for marijuana possession than white people. Data from the Federal Bureau of Investigation in 2017 indicate that New Jersey police departments made more than 33,000 arrests for marijuana possession, which cost New Jersey taxpayers millions of dollars to prosecute.
Once New Jersey's adult-use cannabis law took effect, the state expunged roughly 362,000 minor marijuana convictions. With expungement, the conviction is wiped from a person's record. At the same time, prosecutors will not pursue pending marijuana-related cases now in the court system, unless the arrest was for a violation still illegal under the new law.
The new law also attempts to boost minority participation in the marijuana industry. In that regard, the CRC will prioritize licenses for women, minorities and disabled veterans.
Chirali V. Patel, an associate with the Cannabis & Hemp Law and Litigation practices at Pashman Stein Walder Hayden in Hackensack, says the CRC's goal is to award about 15% of the licenses to women-owned businesses, 15% to minority-owned business, and 15% to disabled veterans.
The state has also authorized what are known as "micro licenses" for dispensaries or businesses with a smaller footprint of 2,500 square feet of physical space. This will allow smaller business people who don't have the same access to private capital as the larger players do to gain access into the industry and possibly grow, Patel says.
Because cannabis remains illegal on the federal level, obtaining a traditional loan from a bank is difficult. Consequently, marijuana businesses must fund operations with venture or private capital, Patel says, which has traditionally gone to white males.
The state will also give preference to businesses that set up shop in what are termed "impact zones," or cities that have borne the brunt of the war on drugs, with high marijuana-related arrests. Those areas or towns will receive a portion of the taxes collected from cannabis sales to fund community services.
"The idea behind [the impact zones] is to target areas and municipalities heavily policed and that have had high marijuana convictions, so money goes back into those communities devastated by the war on drugs and to create an economic boom," Patel says.
At press time, the CRC had yet to designate the impact zones; however, Patel predicts the cities most likely to end up on the list would include Newark, Paterson, Passaic and Atlantic City.
Underage marijuana use
One sticking point in the debate over the marijuana law (and a reason for the lag time between November 2020 and February 2021) was how to address underage marijuana use. Ultimately, in a separate bill, legislators agreed to a tiered system of civil penalties. Penalties will be based on age and the number of offenses, similar to what is now used for underage drinking. For instance, a person under 21 would get a written warning for a first offense. If the person is under age 18, the person's parent or guardian would also receive written notice. Subsequent offenses would require parental notification and a referral to a community-based service such as drug education or treatment.
By decriminalizing underage marijuana use, young people can avoid interactions with law enforcement and be spared going through the legal system, Patel says.
Not everyone agrees. Under the law, police officers cannot stop a young person if they smell marijuana. The state's Policemen's Benevolent Association opposes such a ban, saying in a statement, "underage users of marijuana will be free to smoke it anywhere, including in places the bill says is illegal, because merely stopping a person to enforce the law is now illegal for police."
Critics of the law also argue legalizing marijuana could lead to an uptick in underage cannabis use. Many studies have shown that the adolescent brain is still developing, and marijuana use during adolescence can affect areas of the brain that control cognitive ability. However, a 2021 study by Columbia University's Mailman School of Public Health, which was published in the Journal of the American Medical Association, found that post-legalization, marijuana use among young people age 12 to 20 did not increase.
Many NJ municipalities not onboard
After the legalization law was enacted, more than 70% of New Jersey towns (approximately 400) banned cannabis businesses within their borders. Even local officials in towns prohibiting cannabis businesses, however, expressed willingness to revisit the issue as the industry takes shape.
Patel points out that towns can always opt back into the program. The law regulates the industry, ensuring product safety. But towns have the right to dictate business hours, places of businesses, and the number of businesses. "The law gave a lot of latitude to municipalities," Patel says. "And nobody wants to lose out on tax revenue and job creation."
Estimates of how much tax revenue New Jersey can expect to collect from cannabis sales have been hard to pin down. In 2016, when it looked like the Garden State would pass legalization in 2017, New Jersey Policy Perspective estimated the state could receive as much as $300 million in sales tax from a legal recreational cannabis market. In his most recent budget, Governor Murphy didn't include any projected tax revenue from cannabis sales, although in the past he put the figure at between $60 million and $80 million for both medical and legal cannabis sales.
Discussion Questions
What are the pros and cons of adult-use cannabis coming to the Garden State?
What do you think prompted 70% of New Jersey towns to ban cannabis businesses? What might be their concerns?
What do you think about the penalties for underage marijuana use? Are they too severe or not severe enough? Explain your answer.
Glossary Words
expunged—to have erased (i.e., your criminal record).
referendum —the referral of a measure proposed or passed by a legislative body to the voters for approval or rejection.
This article originally appeared in the winter 2022 edition of The Legal Eagle.