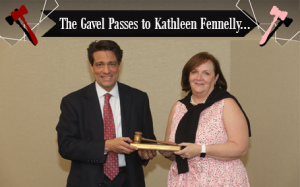 New Jersey State Bar Foundation (NJSBF) President Kathleen Fennelly knows firsthand the quality of its programs and workshops, and she wants more people to know about them, too. She gained insight not only as a longtime member of the NJSBF Executive Committee, but as a mother whose children eagerly awaited the NJSBF publications she brought home.
"The programming that we have available to members of the public affects their daily lives, including immigration, bankruptcy and landlord ­tenant matters. The Foundation's publications, which cover topical legal and social justice issues, the ­Constitution and the Bill of Rights, are quality and timely," Fennelly said.
"I learn something from them every time I read them."
That's saying something for the widely respected attorney of more than 30 years, who has been involved in general commercial litigation—including consumer fraud and class action defense—estate and guardianship matters. A partner at McElroy Deutsch Mulvaney & Carpenter in Morristown, Fennelly appears regularly in federal and state courts in New Jersey.
As the newly inducted Foundation president embarks on a two-year term, she plans to drive the NJSBF's mission to foster the public's awareness about the law and civics.
"I use that as a touchstone for my goals for the coming year. I want to get the news out to the legal community, and the community at-large, about the good work the Foundation does, the programs we offer and all of the trainings we do," she said.
Fennelly is a longtime leader who has been involved in giving back to the legal profession and community. She was one of the first women presidents of the Morris County Bar Association and serves on its professionalism committee and foundation. As the NJSBF president, she is back on the New Jersey State Bar Association (NJSBA) Board of Trustees after having served a six-year term and being chair or active with several committees.
"Giving back to the profession has always been an important part of how I practice law," she said.
NJSBA Trustee Diana Manning said: "Kathleen is incredibly impressive. She was one of the first women attorneys in New Jersey to really assume leadership positions. What always strikes me is not only is she an excellent lawyer, but she is just as dedicated to professionalism."
Susan Feeney, a former president of the NJSBF and NJSBA, said Fennelly is well prepared to be a successful and innovative NJSBF president.
"As a lawyer and state and county bar leader who has earned a stellar reputation for professionalism and thoughtfulness, she brings critical experience to the position. She has an incredible network of friends, both lawyers and non-lawyers, to engage as stewards in the work of the Foundation. I have no doubt that the Foundation will continue to expand its programs and funding sources under her outreach and leadership. It will be an exciting two years with Kathleen as president," she said.
Fennelly grew up in Morris County, the daughter of a steamfitter and a mother who was a substitute teacher and human resources professional. Her parents taught her and her two siblings the value of hard work and being kind. As a result, she has been devoted to charitable work through her church.
That this year the Foundation and the Association are both being led by graduates of Morris Catholic High School—NJSBA President Domenick Carmagnola graduated two years after Fennelly—is a point of pride for the pair, and often the source of gentle ribbing.
After graduating magna cum laude from Fairfield University, Fennelly worked at an investment bank in New York for a year before attending law school. She graduated cum laude from Seton Hall Law School in 1986.
Fennelly, who is married to Thomas Fennelly, chief assistant prosecutor in Essex County, joined Graham Curtin in 1987. After practicing with the firm for 33 years, and litigating several high-profile cases, she joined McElroy Deutsch three years ago. Fennelly said she finds her work in estate litigation and guardianship matters meaningful, "especially in guardianship, where I have the opportunity to help people and families at one of the most vulnerable times in their lives. Even in estate litigation, you have an opportunity to touch people's lives in a personal way."
Thomas Curtin, a former NJSBF and NJSBA president, who has known Fennelly since they worked together at Graham Curtin and continues working with her today at McElroy Deutsch, praised her ability as a leader at the Morris County Bar Association. He noted she has a "wonderful manner and way of dealing with other people."
"She is a dependable, reliable, steady person who works hard and works smart," he said.
At a recent NJSBA Board of Trustees meeting, Fennelly wasted no time spreading the word about the NJSBF's programs, urging her colleagues to follow its expanding presence on social media and to become more familiar with all the organization has to offer.
She has already set about looking for opportunities to promote the NJSBF's exceptional programs, whether through social media, marketing or simple word of mouth. Fennelly plans to speak "at every opportunity to promote the good works of the Foundation… because we have the programming, we have the resources, we have the material. It's a matter of spreading the word that they're there and available," she said.