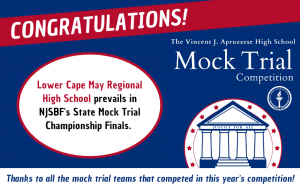 This school year 196 high school teams throughout New Jersey rocked the mock in the New Jersey State Bar Foundation's first-ever virtual Vincent J. Apruzzese Mock Trial Competition, culminating in a win for the state championship title by Lower Cape May Regional High School of Cape May County on March 18.
Taking second- and third-place respectively were West Morris Mendham High School of Morris County and Colts Neck High School of Monmouth County.
The Hon. Stuart Rabner, Chief Justice, Supreme Court of the State of New Jersey, and the Hon. Marilyn C. Clark, recently retired as Presiding Judge of the Criminal Division in Passaic County, presided over the championship round once again this year.
At the final round, Norberto Garcia, president of the New Jersey State Bar Foundation, thanked the Foundation's Mock Trial Committee "for their steadfast determination to make the competition possible safely, particularly given the unprecedented challenge presented by the COVID-19 pandemic this season." He also thanked volunteers from New Jersey's County Bar Associations,  judges and attorneys throughout the state who presided over trials or coached teams, and teachers and parents for their support.
Members of the Lower Cape May team include Nikolas Frey, Holly Karavanas, Liv Longshore, Elise Heim, John Payne and Anya Davids.  Teacher Barbara Bakley Marino coached the team.
Lower Cape May will represent New Jersey in the first virtual National High School Mock Trial Championship May 13 -15.
For more information about the competition, contact Sheila Boro, Director of Mock Trial Programs, at sboro@njsbf.org or visit our the High School Mock Trial page on our website.