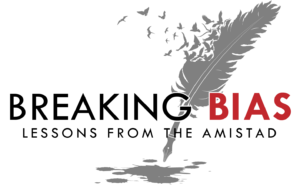 The New Jersey State Bar Foundation (NJSBF) has launched a new school curriculum and an online training to complement the curriculum, which teaches African American history from an anti-bias perspective. The curriculum is for grades 3-12.
The online curriculum, titled Breaking Bias: Lessons from the Amistad, highlights the contribution African Americans have made to the United States, as well as the lessons our country has learned from African American history.
Breaking Bias is intended to complement New Jersey's Amistad law, which was passed in 2002 and requires African American history to be taught as an integral part of American history throughout the school year, not just during Black History Month. The law takes its title from the Amistad, a ship where 53 enslaved people revolted against the ship's captain and crew in 1839.
The six-unit curriculum was conceived and developed by Elissa Zylbershlag, the NJSBF director of conflict resolution and anti-bias; Donnetrice C. Allison, associate professor of Africana studies at Stockton University; Deirdre B. Foreman, associate director of the Equal Opportunity Fund at Ramapo College; and Scott Hirschfeld, editor.
The curriculum focuses on African Americans as active participants in their history, not simply as victims. It also examines how racial oppression transformed over time in the U.S. and asks what our responsibilities, both individually and collectively, are to respond to racism.
Breaking Bias poses numerous questions throughout its six units, including what is race, and what have been the consequences of social constructs about race in our country? In a unit on Jim Crow and the Great Migration, for example, students examine why African American art and culture flourished during the period of the Great Migration, and how this was a form of resistance.
The first two units are currently available on the NJSBF's website. Click here to access them. Educators can also attend the Foundation's online training to learn the tools needed to effectively teach the material. The first of those trainings are scheduled for December. Click here for information on how to register.
The NJSBF will publish hard copies of the curriculum once all six units are online.