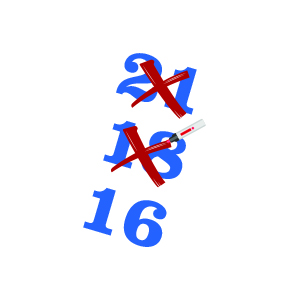 by Maria Wood
Since our nation's founding, who has the right to vote has changed dramatically. In the beginning, the franchise was limited to white, land-owning males. Today, the right can't be denied to any citizen 18 years of age or older, regardless of gender or race.
It was the 26th Amendment to the U.S. Constitution—the last amendment to expand the franchise—that allowed 18-year-olds to vote. Previously, the voting age in the U.S. was 21.
Although the debate over lowering the voting age took center stage in the 1960s, during the Vietnam War, the push actually started much sooner, spurred by another war. President Dwight D. Eisenhower, a former World War II general, supported lowering the voting age from 21 to 18.
"For years our citizens between the ages of 18 and 21 have, in time of peril, been summoned to fight for America," President Eisenhower said during his 1954 State of the Union Address. "They should participate in the political process that produces this fateful summons."
That was the same argument that demonstrators used during the Vietnam War where chants of "old enough to fight, old enough to vote" were common. In other words, if 18-year-olds, who were being drafted, were old enough to go to war, they were old enough to vote for the leaders who were sending them there.
The movement to lower the voting age had its origins in New Jersey. Three New Jersey college students launched a campaign in the late-1960s to make 18 the federal voting age. In 1969, that effort failed when New Jersey voters defeated a state proposal to lower the voting age. The Voting Age Coalition, Inc. of New Jersey, however, caught the attention of college students in other states, who joined the cause, followed by political leaders and eventually the public at large.
The 26th Amendment was ratified by the states in 1971, just four months after Congress approved it. No attempt to change the voting age has been undertaken since—until recently.
Can we go lower?
Joshua A. Douglas, a law professor at the University of Kentucky who specializes in election law, voting rights and constitutional law, notes that the 26th Amendment doesn't expressly prohibit lowering the voting age to 16. It merely says that states can't deny the right to vote to anyone 18 or older. States and localities, therefore, can set their own voting rules, such as polling hours and eligibility requirements.
Today's movement to lower the voting age to 16 is being propelled by high school students. Groups like Vote16 USA and the National Youth Rights Association are leading the charge.
"What we're seeing is a great example of a grassroots movement driven by 16-year-olds," says Professor Douglas, who has studied the impact of lowering the voting age to 16 and is the author of the book, Vote for the US: How to Take Back Our Elections and Change the Future of Voting.
In recent years, several towns in Maryland have lowered the voting age. The first was Takoma Park, which in 2013 lowered the minimum age to vote in municipal elections to 16. Other Maryland towns—Hyattsville, Riverdale Park and Greenbelt—followed suit. Glenarden, Maryland lowered its voting age to 16 in 2016 but raised it to 18 a year later. Berkeley, California permits 16-year-olds to vote in school board elections. San Francisco voters, however, defeated a proposal in 2016 that would have allowed 16-year-olds to vote in municipal contests.
One of the arguments against letting 16- and 17-year-olds vote is based on the belief they are not mature enough to make election decisions, which was also an argument made during the movement to lower the age to 18. A 2011 study published in the Annals of the American Academy of Political and Social Science concluded there was no difference between the civics knowledge of 16-year-olds and someone two years older. The study stated that 16- and 17-year-old brains are wired to make what is known as "cold cognition" choices, which refers to decisions made after a deliberate and reasoned process. Deciding whether to vote for a particular politician or policy falls into the cold cognition category.
"If they are cognitively able to do so and if we arm them with the right tools and education there is no reason they can't be meaningful voters," Professor Douglas says. "It's been proven in the cities that have done it."
Pointing to Takoma Park as an example, Professor Douglas notes that 40 percent of 16- and 17-year-olds voted in Takoma Park's election in 2013 when the voting age was lowered compared to a citywide turnout of 11 percent.
Professor Douglas also notes that turning 18 can be a year of upheaval for many young people. They are leaving for college or starting in the workforce. With so much going on in their lives, they may not think about registering to vote, and he says it's important to start the voting habit early. Young people who don't vote in the first election in which they're eligible are unlikely to be lifelong voters, Professor Douglas adds.
"Sixteen makes more sense because they are in the supportive environment of home and school, and we know where they are to get them registered and educated," he says.
The professor's enthusiasm for lowering the voting age is not without limits. Professor Douglas cautions that lowering the voting age must be combined with strong civics instruction in the schools.
"You can't lower the voting age without improving civics education," he stresses.
Young people want to be heard
So, what's the rationale? When 18-year-olds were seeking the vote, the argument was "old enough to fight, old enough to vote." Those advocating for lowering the voting age to 16 argue that their generation will be most affected by issues such as gun control and climate change so they should have a voice on those issues.
Professor Douglas points to the "March for Our Lives" nationwide effort for better gun control laws started by students at Marjory Stoneman Douglas High School in Parkland, Florida after a school shooting there in 2018.
"That's led many people to think these individuals should have a say in the political conversation—not just the debate, but at the ballot box," he says.
Advocates for lowering the voting age also emphasize that at 16, young people are already given many adult responsibilities, such as driving and paying taxes on their wages. According to the National Youth Rights Association, young people pay approximately $730 million yearly in income tax with no say in how that money is spent.
Limited support
While several congressional leaders have voiced support for making 16 the federal voting age, recent polls indicate that anywhere from 75 to 84 percent of registered voters oppose it. Rep. Alyanna Pressley (D-MA) introduced a bill in March 2019 to lower the age for federal elections to 16, which was backed by House Speaker Nancy Pelosi. In the end, the measure failed by a vote of 126 to 305.
The lack of support for the cause is not discouraging advocates who point out that in 1939 support for lowering the voting age to 18 was polling at around 17 percent and by 1967 it had climbed to 64 percent.
Some states have lowered the barrier to voting for young people, while not lowering the voting age. For instance, more than 20 states allow 17-year-olds to vote in presidential primaries or caucuses if they will turn 18 before the general election. A similar measure was proposed in New Jersey but it stalled in the state senate. New Jersey, along with three other states, however, does allow 17-year-olds to pre-register to vote.
Professor Douglas says he believes any reform should percolate up from the local and state level, rather than a top-down decision from the federal government. That way, cities and states can assess how to best implement the change.
"Women suffrage, lowering voting age from 21 to 18—those were local pressures well before you had enough support to then lead to a constitutional amendment to do it nationwide," Professor Douglas says. "If enough states pass it then you have a tipping point for a constitutional amendment."
Discussion Questions
How do you feel about lowering the voting age? Would you be ready to vote at age 16?
What are some advantages or disadvantages of living at home when you are first voting and have the influence of your parents or guardians?
There are several arguments for lowering the voting age to 16. Which is the most compelling to you and why?
Gun control and climate change are mentioned in the story as issues that young people care about. What other issues are important to you?
Will you pre-register to vote when you turn 17? Why or why not?
Glossary Words
caucus: used in some states, this is a meeting where local members of a political party voice their preference among a slate of candidates for office.
drafted: the required induction of individuals into the Armed Services.
primary: a preliminary election by a political party to select a candidate for office.
ratified: approved or endorsed.
suffrage: the right to vote in political elections.
This article originally appeared in the winter 2020 edition of The Legal Eagle.