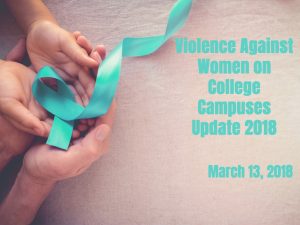 Much has happened since last year's timely and provocative program on violence against women on college campuses, forcing everyone to take a long-overdue look at sexual violence against women.
As we noted last year, between 20 and 25 percent of all women will experience a completed and/or attempted rape during their college career. More than half of them will tell no one. Forty-four percent of the victims are under the age of 18. In one in three sexual assaults, the perpetrator was intoxicated. Freshman and sophomores are at greater risk then juniors and seniors and 84 percent of the women who reported sexual coercion experienced the incident during their first four semesters on campus. Only two percent of sexual assault allegations are false.
Join the New Jersey Institute for Continuing Legal Education and the New Jersey State Bar Foundation as experts take a look back at the last year and present the latest information on campus violence. They will examine the problem from a legal, social and society framework and work to answer some legal and social questions.
Violence Against Women on College Campuses Update 2018 will be held Tuesday, March 13, 2018, 9 a.m. to 12 p.m. at the New Jersey Law Center in New Brunswick.
Topics will include an update on statistics—what have colleges and universities done to help prevent assault in the last 12 months and has it been working? What effect has the current presidential administration had on sexual assault prevention? Has the #MeToo movement had an effect on preventing assault on college campuses? And, what can the public do to help prevent college sexual assault?
Registration is FREE for non-attorneys, educators, law students and full-time judges. Educators will earn 3 professional development credits. Attorneys will earn up to 3.3 CLE credits. Tuition for the showcase is $140, discounted to $112 for NJSBA members or $105 for YLD members or members of an NJSBA co-sponsoring section or committee. Paralegals will pay $91. The cost at the door will be $160. To register, contact NJICLE at 732-214-8500.
To download seminar materials, click here.