The New Jersey State Bar Foundation is the philanthropic and charitable arm of the Bar Association. We provide FREE law-related education to the citizens of New Jersey, from elementary, middle & high school students to senior citizens. We also provide opportunities for lawyers to serve the public through participation in and support of our programs. Here's what we have to offer YOU:
Publications on law-related topics for you or your clients
Opportunities to give back to your community that draw on your legal experience and knowledge
The chance to grow your networks, skills, and heart by serving on the Foundation's Board of Trustees
Social media cred by following, sharing and liking the Foundation's interesting and highly relevant posts
The inside scoop on where the educators in your network can find interactive and impactful trainings
The gratitude of your friends, colleagues, clients and family who are looking for fun, engaging and educational lesson plans (that just happen to be law and civics-related)
The knowledge that your financial donation will help to foster an increased awareness, appreciation and knowledge of the law and the legal system among New Jersey residents
Through our Speakers Bureau,
volunteer attorneys share their legal expertise with
6,000 students and community member groups each year.
More than 5,000 students and teachers
participate in New Jersey State Bar Foundation
mock trial programs each year.

Trainings Feedback
"Thank you for a great training. I really enjoyed the activities and group interaction and feel confident and inspired to implement these tools and activities in my school."
Workshop Feedback
"There was so much reflection, which was so eye opening. This workshop was fantastic.
Great job."
Feedback about our Programs
"This was my first experience with one of your programs and I am very appreciative of the resources you offer to schools as support for improving school culture."
Click on the Images Below to download the PDFs
Volunteers are the backbone of the New Jersey State Bar Foundation. Use the Attorney Volunteer Form to become part of our Speakers Bureau or coach a mock trial team. Click here to check out what attorneys have to say about their experience volunteering with the New Jersey State Bar Foundation.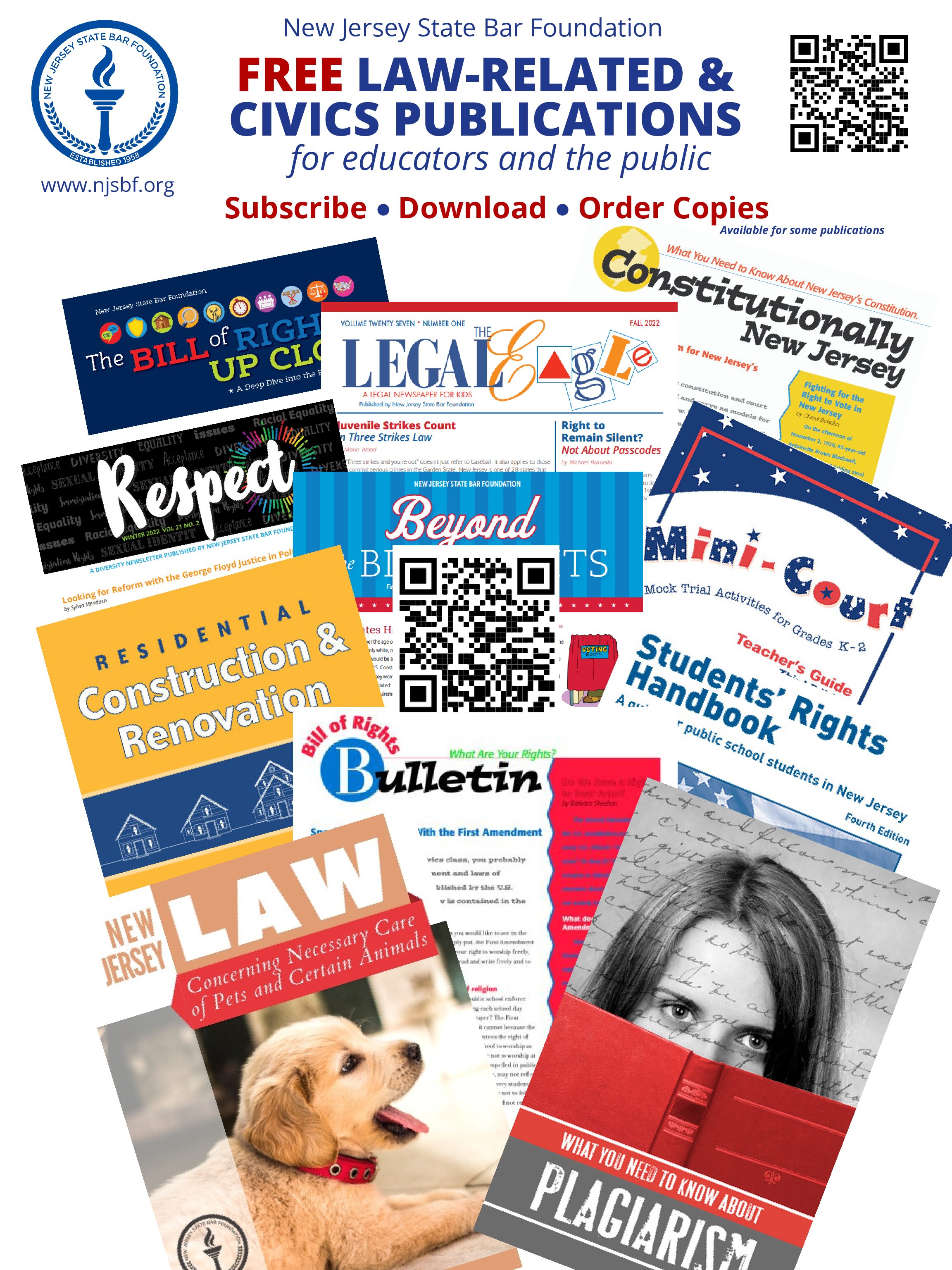 Take a look at our Publications Page, where you will find five toggles, including one for Publications for the Public. You can download PDFs from the toggles and if hard copies are available, please use the Publication Order Form and we will ship you a supply of whatever you need (from any toggle).
We would love to see you at our annual celebration honoring our Medal of Honor Award recipients. Save the date for 2023 is coming soon…stay tuned for more information.  In the meantime, enjoy the photo gallery from the 2022 event.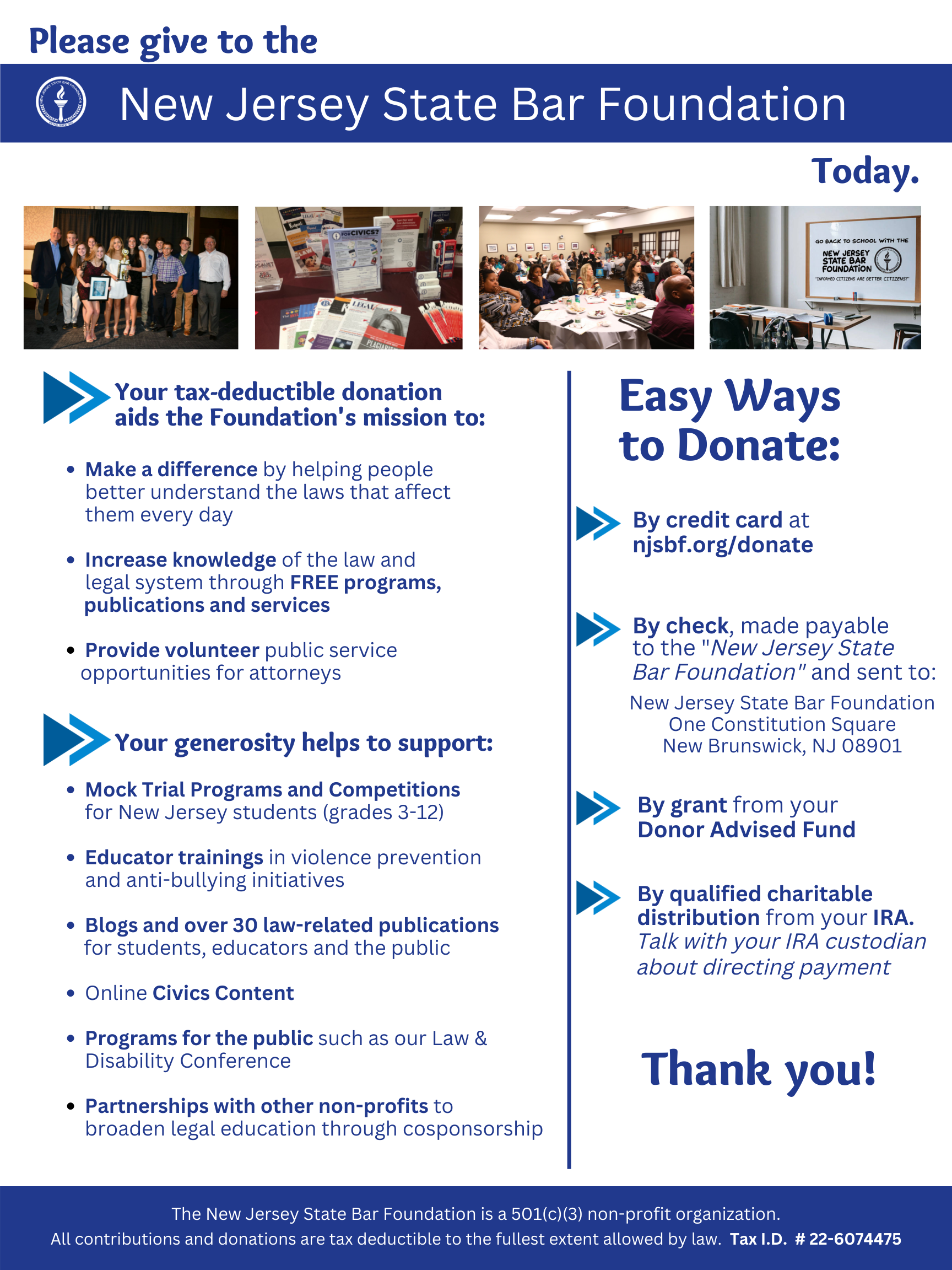 The generosity of attorneys like you help us provide a multitude of free programs and publications. Please consider making a one-time or recurring donation so that the Foundation can continue its great work.
There is always something new to learn from our social media feeds whether it's about civics, history or our great programs and publications.  Please like and follow us and ask your friends to like and follow us as well.
We provide free violence prevention and anti-bias workshops and webinars for New Jersey educators. For more details including training descriptions, scheduled training dates, how to register and more click here.
The Foundation distributes 300,000 copies of law-related and civics publications to school every year. Many more are downloaded.

Over 3,300 teachers and educators attend our free violence prevention and anti-bias workshops and webinars every year.

Feedback from Teachers
"I wanted to write and tell you how much I enjoy the educator trainings you and your team do, and how helpful they were last spring when schools were forced to go virtual."
Publication Feedback
"The articles in Beyond the Bill of Rights are accessible for my students and what I call a high interest read. It isn't like a textbook as it has a much better voice that students can connect to. It has provided me with the resource I need to effectively teach the Constitution."   -Teacher, Madison Junior School
Newsletter Feedback
"The newsletters are great because they include timely subjects written at an appropriate level for our students. I have access to many online sources, but with the NJSBF newsletters I can use the physical copies to teach students how to annotate text, which is something I can't do if they are reading an article online." –Teachers at Good Intent School, Deptford
Feedback - Civic Publications
"Learning about civics is a forgotten subject in most schools and their textbooks. The New Jersey State Bar Foundation's civics newsletters cover the subjects that our textbooks leave out with the added bonus that my students actually find them interesting."—Bradley Olman, Union Beach School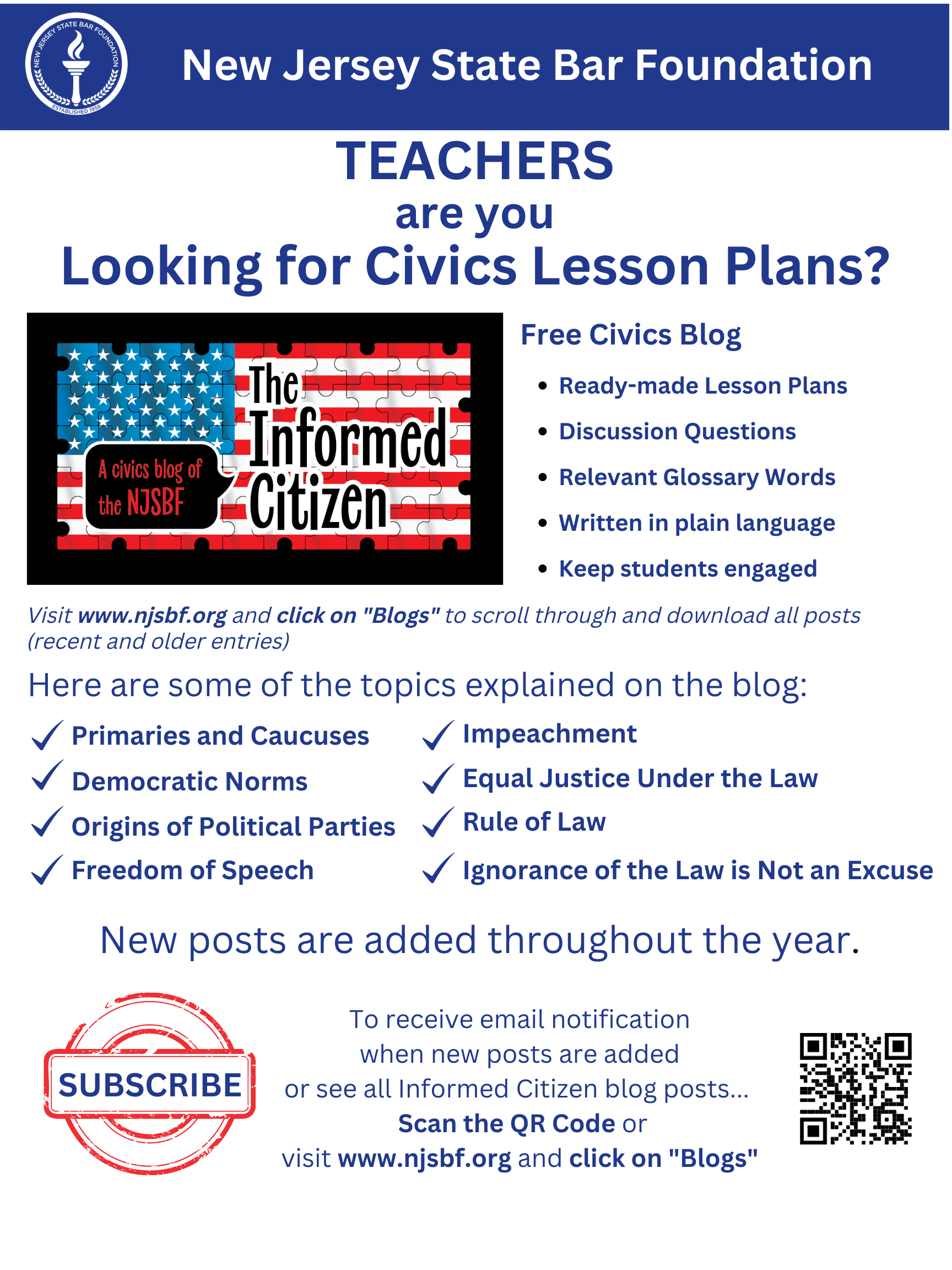 Interested in civics?  The Informed Citizen blog covers civics-related topics, including democratic norms, diplomacy, equal justice under the law, impeachment and much more. To peruse the topics, click here. The Informed Citizen is just one way the Foundation promotes civics, check out our Mock Trial and Civics Online Content page for more.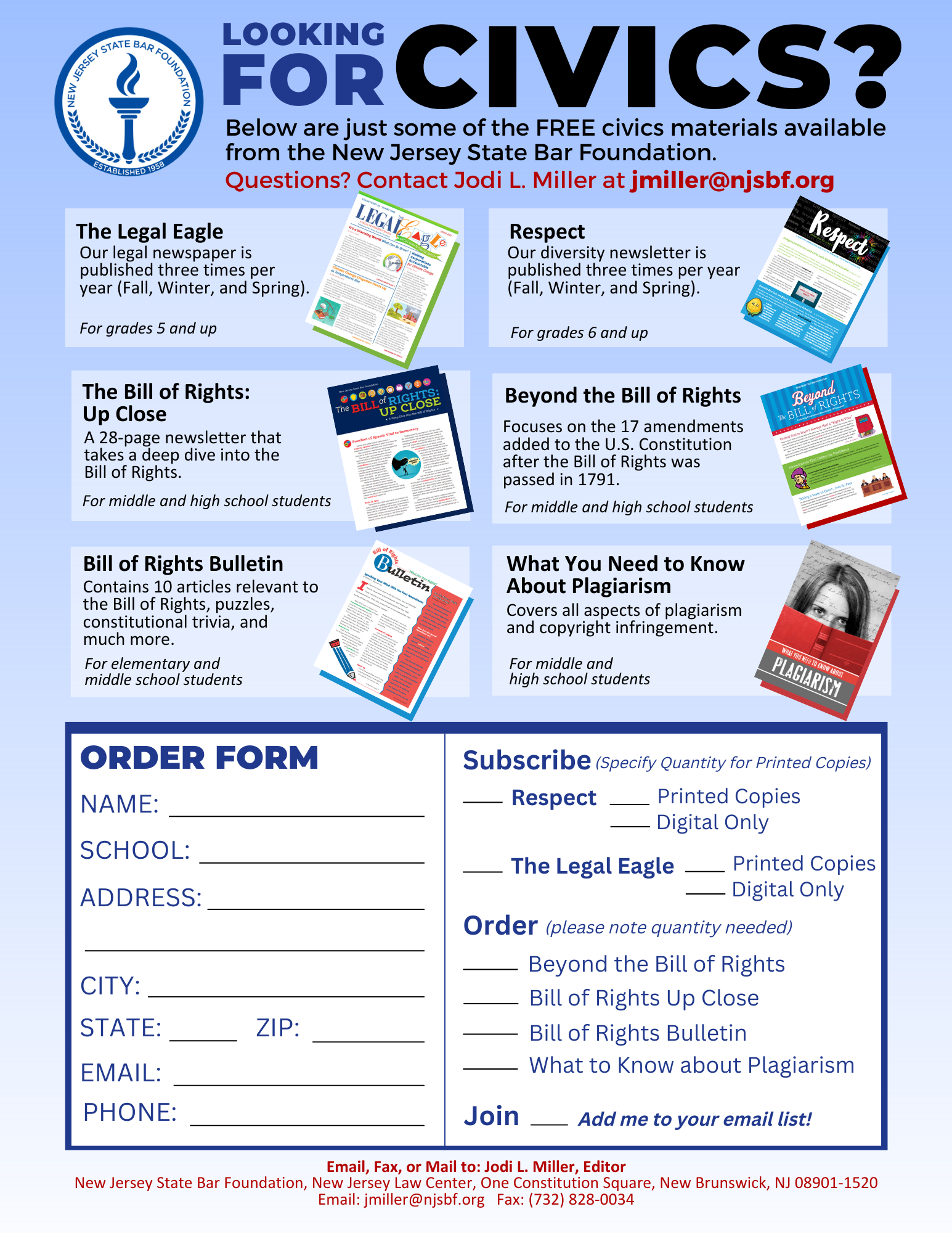 Do you know an educator who could benefit from our civics publications?  Would you like to order copies? Use this order form and we will send you hard copies. Visit our Publications Page to download a PDF of any publication. You can also access back issues of The Legal Eagle or Respect. Just open the relevant toggle.
The New Jersey State Bar Foundation publishes two subscription-based newsletters—The Legal Eagle, (a legal newspaper for kids), and Respect, (our diversity newsletter). Both are published three times a year and offered FREE of charge to interested schools. Click here to receive future printed copies.