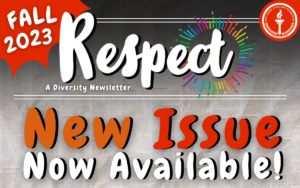 Respect's fall issue contains articles on racial gerrymandering, Native American adoptions and banning the hijab. A PDF of  the fall issue can be downloaded or individual articles can be read and printed from Respect's blog, The Rundown.
Any questions, contact the editor of Respect, Jodi L. Miller. She can be reached via email at jmiller@njsbf.org.
Here are the headlines from the fall 2023 issue:
Drawing Lines Around Voting
Every 10 years, after the U.S. census figures are released, congressional voting districts in 43 states are required by law to be redrawn to account for population shifts. Congressional districts are the 435 areas across the country from which members are elected to the U.S. House of Representatives. There are seven states—Alaska, Delaware, Montana, North Dakota, South Dakota, Vermont and Wyoming—that only have one representative in the House, so no redistricting is necessary. READ MORE
Unique Challenges and Protections When Adopting Native American Children
In the U.S., adoptions are primarily governed by state law. The adoption of Native American or Alaska Native children, however, is different. Those adoptions are governed by the Indian Child Welfare Act (ICWA), a 1978 federal law that gives tribal governments exclusive jurisdiction over children who are members of one of the 574 federally recognized Native American tribes. ICWA has been challenged many times in the courts, most recently in Brackeen v. Haaland, which the U.S. Supreme Court decided in June 2023. READ MORE
Muslim Women Face Discrimination for Wearing Hijab
Few garments evoke as much controversy as the hijab. Translated from Arabic as partition, curtain, or barrier, sometimes hijab refers to the headscarf worn by Islamic women, and sometimes it refers to the broader concept of practicing modesty by both men and women, according to the Women's Islamic Initiative in Spirituality & Equality, a global organization dedicated to promoting women's rights. For this reason, it is often referred to as practicing hijab or wearing hijab. READ MORE
Like a Subscription?
If you would like to be notified when new issues of Respect have been published, sign up for a digital subscription. If you would like a FREE print subscription, you can subscribe using our Publication Order Form. You'll be sent the last published issue and when new issues are printed, you'll receive those as well. Please order as many as you need for your students.