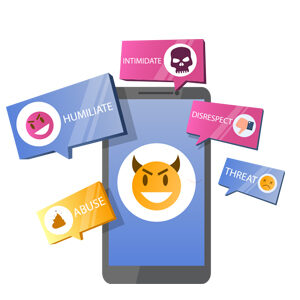 by Emily Pecot
Instagram and its parent company, Facebook Inc., rebranded as Meta, have faced increasing calls to rein in social media practices that promote hate speech and online bullying. Additionally, documents obtained and published by The Wall Street Journal demonstrate that Facebook continues to pursue younger Instagram users despite internal data showing the platform's detrimental effects on teenagers. These effects are most profound on girls whose body images can be warped by the platform's unrealistic portrayals.
Understanding online bullying
According to data from the Pew Research Center, 72% of U.S. teens are active on Instagram, making it the second most popular social media platform, just below YouTube at 85% and edging out Snapchat at 69%. The speed with which content can go viral as well as the extent of its reach makes Instagram an ideal platform to anonymously target victims. Since Instagram is a large-scale application, using artificial intelligence to detect cyberbullying is limited.
"Young people especially have been figuring out ways of being under the radar and not having what they're doing get noticed by the adults," says Joel Penney, Ph.D., a professor in the School of Communication and Media at Montclair State University. "I think the content moderation piece is extremely challenging."
The Cyberbullying Research Center, a website dedicated to providing information about the way young people use and misuse technology, defines cyberbullying as "when someone repeatedly and intentionally harasses, mistreats, or makes fun of another person online or while using cell phones or other electronic devices." The Pew Research Center estimates that nearly 59% of preteens and teenagers have experienced cyberbullying. Data from the U.S. Department of Education's National Center for Education Statistics indicates that girls are three times more likely to be bullied online than boys.
Cyberbullying on Instagram
In an article published in The Atlantic, several teenage girls spoke about their experiences with cyberbullying on Instagram under the condition of anonymity. One 15-year-old girl relayed a story about a former friend who cyberbullied her and the anxiety she felt whenever she opened the app.
Identified only as Yael (not her real name), she said, "I knew when I opened the app, she would be there. I was having a lot of anxiety over it, a lot of stress."
Another teenager, identified as Annie (also 15 years old), talked about the "hate pages" created about her. Hate pages are separate Instagram accounts built purposely to bully a particular person. These pages can be created by one person or sometimes by a group of teens.
"I've had at least 10 hate pages made about me," Annie said. "I know some were made in a row by the same person, but some were from different people. They say really nasty things about you, the most outrageous as possible."
Under increased pressure to address public and mental health concerns regarding younger users, Instagram implemented user restrictions aimed at curbing harassment. One such tool flags comments as possible bullying and displays a message to the author asking if they would like to send a less inflammatory comment. In 2020, an Instagram representative told Wired magazine that after that tool was put in place, one in five people either edited their comment or deleted it before sending. Instagram also placed restrictions on comments during live videos, but direct messaging remains largely unaddressed.
"Instagram won't delete a person's account unless it's clear bullying on their main feed," Hadley (not her real name) said in The Atlantic piece. "No one is going to do that. It's over DM [direct message] and in comment sections."
Further fueling negative self-image is the "Likes" function, which shows how many other users are positively reacting to posts. Instagram integrated the ability for users to hide "Likes" on posts in an effort to mitigate the competitive and pressurized nature of social media. After user complaints about the move, Instagram made hiding "Likes" an opt-in function.
Despite Instagram's attempts to root out problematic behavior, the 2020 Annual Bullying Survey conducted by Ditch the Label, a global youth charity, showed that one in five users aged 12 to 20 experienced bullying on Instagram.
"Lots of bullying stems from jealousy, and Instagram is the ultimate jealousy platform," Hadley said. "People are constantly posting pics of their cars, their bodies. Anything good in your life or at school goes on Insta, and that makes people jealous."
Instagram's own research
Instagram's internal slide presentation "Teen Mental Health Deep Dive," which was leaked by The Wall Street Journal, shows the platform's image-based core feature encourages users to display only the best version of their lives, leading to unrealistic expectations for teens. Instagram's own research and surveys of young users found "32% of teen girls said that when they felt bad about their bodies, Instagram made them feel worse." Further internal research revealed that among teens who reported suicidal thoughts, six percent of American users linked those thoughts with their Instagram use.
Internal documents from 2018 obtained by The New York Times revealed that Instagram was afraid of losing the teenage market to other apps. An internal strategy memo stated: "If we lose the teen foothold in the U.S. we lose the pipeline." In 2018, Instagram allocated $390 million to pursue and maintain teen users through digital ads, pinpointing 13- to 15-year-olds, dubbed the "early high school" category, as the most important target of their ad dollars. Taking it a step further, advertisers were encouraged to create ads intended for the early high school category but making them appeal to even younger children.
Oversight and legal repercussions
Instagram's pursuit of younger users in the face of acknowledged negative mental health impacts is sounding alarm bells for lawmakers. Congress has grilled the leaders of social media companies many times on Capitol Hill, leading to debate over Section 230 of the Communications Decency Act of 1996. Section 230 states: "No provider or user of an interactive computer service shall be treated as the publisher or speaker of any information provided by another information content provider." Essentially, this means that social media platforms cannot be sued for what its users post.
"You've given people a platform to communicate and short of pulling the plug on it, it's very hard to control what people say," Dr. Penney says.
Advocates are eager to regulate social media companies and would like to use Section 230 to do that, says Dr. Penney. The impact that would have on the psychological harms to teenagers, however, he says is unclear.
"In general, the United States has been very slow and reluctant to regulate this industry at all, and that's very much in contrast to certain other parts of the world," Dr. Penney says. "There does seem to be a climate that's changing as a result of what's been shown."
Some online bullying victims have succeeded in court under a patchwork of state and local defamation, stalking, and anti-discrimination laws. However, these laws only go so far when perpetrators are often anonymous, leaving victims powerless.
"In real-life bullying, you know who's doing it," said Skye, another anonymous teenager from The Atlantic piece. "Teachers tell you with bullying to just say 'stop,' but in this case you can't, and you don't even know who to tell stop to."
In light of the recent revelations, lawmakers pressed Facebook to abandon plans for an Instagram platform specifically for children. Facebook placed the project on hold but would not commit to scrapping it totally. Curbing the abusive behavior and self-image warping effects of the platform remains challenging. According to statistics, 50 percent of teen girls report using it "near-constantly."
"We have to acknowledge the broader point that Instagram and other social media apps are designed to keep people using them for as many hours as possible, because that's how they make the most money," Jean Twenge, author of iGen, a book about the first generation to grow up with smartphones and social media, told Time magazine. "If we're going to do any kind of intervention with a teen girl, it'd probably be a lot more productive to tell her: people are making money off of every minute that you spend on this app."
Other platforms
Critics are also shining a light on other social media platforms like TikTok (owned by Bytedance), Discord, YouTube and Snapchat. Since Snapchat posts are only visible for 24 hours and there is more audience control, cyberbullying on the platform tends to be less effective. With 40% of TikTok users being 14 to 24 years of age, concerns over children's privacy are cropping up due to the app's access to users' microphone, camera and location, among other private data.
YouTube, which boasts 85 percent usership among 12- to 17-year-olds, continues to attract malicious content even on its platform for children, YouTube Kids. Nonetheless, with more than 2 billion users worldwide, Instagram, under the Facebook umbrella, remains the foremost platform for harmful effects.
"I think Facebook has got a target on its back because it's the number one company in this space, they're making so much money, and now they've become this conglomerate that's been swallowing up all these other apps, so it's the big gorilla that people want to point to as the center where these problems are emanating from," says Dr. Penney. "I could imagine that Bytedance could find themselves in hot water down the line, we just haven't gotten there yet."
Discussion Questions
Think about how much time you spend on social media platforms. Would you say it is too much? Why or why not?
If you didn't have social media, what other activities would you devote your time to? List three such activities and explain their importance to you.
What do you think about the revelations surrounding Instagram? How do they affect your online activities and your own personal actions?
What steps do you think could be taken to combat cyberbullying at a personal, school and federal level?
This article originally appeared in the winter 2022 edition of The Legal Eagle.